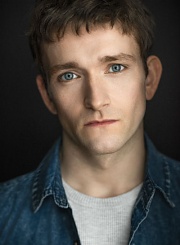 Shane was last seen on screen in the brand new TV series Miss Scarlet and the Duke. He was last seen on stage in Rough's Magic's tour of Much Ado About Nothing.
Shane was last seen on stage in Chasing Bono at the Soho Theatre.
He recently went on tour in the US with the critically acclaimed one man show Private Peaceful, produced by Verdant Productions. Private Peaceful recently toured in theatres across Ireland, including the Gaiety Theatre, Dublin.
Shane's performance in Private Peaceful earned an Irish Times theatre awards nomination for Best Actor in 2017.
Shane Trained at The Gaiety School of Acting, where in 2013 he was awarded the Gaiety Theatre Bursary. Upon graduating in 2014 Shane has been cast in a variety of Roles including; Shaggy Callaghan in Borstal Boy directed by Conall Morrison, The Fool in King Lear with Mill Productions, the title role in Hamlet at the Mill Theatre and Brennan in The Boys directed by Patrick Sutton. Shane recently appeared in the remount of The Boys at Smock Alley. Other recent theatre performances include The Spinning Heart at the Gaiety Theatre, and The Restoration of Hope at the New Theatre.
Shane played the lead role of Mark Renton in Reality:Check Productions Critically acclaimed run of Trainspotting directed by Tracy Ryan at Smock Alley, and its remount at the Olympia Theatre.
Shane is the co founder and Artistic Director of Reality:Check Productions