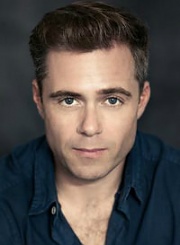 Rory was last seen on stage in Plenty at the Chichester Festival.
Rory recently appears in the feature film The Young Messiah,The Head Hunter, the TV series The Brothers Grimsby, Stan Lee's Lucky Man (SKY) , as Bilibin in War and Peace (BBC) directed by Tom Harper and recurring role of Donal in season two of Peaky Blinders with Cillian Murphy and Tom Hardy for Tiger Aspect/BBC.Rory appeared as Aidan McBride in The Guard, a new feature film written and directed by John McDonagh and starring Brendan Gleeson and Don Cheadle for Element Films.
TV and Film credits include: Primeval (ITV), Birdsong (BBC), The Clinic (Parallel Films/RTE), Aristocrats (BBC), Dear Dilemma (RTE), a leading role in two series of On Home Ground (RTE), Intermission (Company of Wolves), Ella Enchanted (Miramax), Reign Of Fire (Disney), Close, Gun, How to Cheat in the Leaving Certificate, Flesh and Blood and Benedict Arnold (ABC TV). Rory appeared in a leading role (Keith) in Showbands, a two part TV movie for RTE, directed by Ian Fitzgibbon and produced by Parallel Films. He appeared in Pride and Joy on RTE 1, directed by Ronan Glennane for Arc Productions and recently appeared in the role of Guy Henderson in John Carney's new feature film Zonad produced by Element Films which went on general release in early 2010 and has just appeared at the Tribeca Festival in New York, he also appeared in the leading role in One Hundred Mornings a Catalyst Project which premiered also premiered at this year's Fleadh.
Most recent theatre includes; Long Day's Journey into Night (opposite Jeremy Irons – West End, New York, LA), Welcome Home Captain Fox directed by Blanche McIntyre (Donmar Warehouse), Someone Who'll Watch Over Me directed by Michael Attenborough and Liola directed by Richard Eyre (National Theatre) London.
He appeared as Gar Private in Philadelphia Here I Come!_directed by Lyndsey Turner, in _The Big Fellah directed by Max Stafford Clarke for Out of Joint Productions on tour across the UK and at the Lyric, Hammersmith. Theatre includes a leading role in "The Kitchen" directed by Bijan Sheibani at the National Theatre, London, "Dublin Carol" by Conor McPherson at the Donmar Warehouse, London, directed by Abbey Wright.
Theatre credits include: Six Characters in Search of an Author and She Stoops to Folly at the Abbey Theatre, A Christmas Carol at the Gate Theatre, Monged (Fishamble), The Sound of Music and The Wizard of Oz in the Olympia Theatre, Carousel at the Tivoli, Picnic in the Focus, How He Lied to Her Husband at Bewley's Cafe Theatre and Sonnets For an Old Century at the Project. Rory appeared in the title role of The Drunkard, a new adaptation by Tom Murphy for B*spoke Theatre Company and the Galway Arts Festival, directed by Lynne Parker which transferred to the Olympia Theatre. He appeared in the title role of Second Age's production of Hamlet directed by Alan Stanford. Rory appeared as Captain Molyneaux in The Shaughran directed by John McColgan at the Abbey Theatre which transferred to the Albery Theatre, London. Rory appeared as Salvador Dali in Hysteria directed by Loveday Ingram at the Project Arts Centre for b*spoke Theatre company and in Level Land, a new play by Rich Hall at the Assembly Rooms for Edinburgh 2006, directed by Guy Masterson. He appeared as Michael in Festen directed by Selina Cartmell at the Gate Theatre for the Dublin Theatre Festival, 2006 and went on play Charles Surface in The School for Scandal, directed by Jimmy Fay, at the Abbey Theatre. Rory appeared in Don Carlos directed by Lynne Parker for Rough Magic Theatre Company at the Project Arts Centre, and appeared as Fred in Edward Bond's Saved directed by Jimmy Fay at the Peacock Theatre, Dublin. He appeared as Ronan in Last Days of the Celtic Tiger by Paul Howard, directed by Jimmy Fay for Landmark Productions at the Olympia theatre, Dublin for which he won the Irish Times Theatre Award for Best Supporting Actor 2007. Rory appeared in the title role of Macbeth in Selina Cartmell's acclaimed production at the Empty Space earlier this year.
As well as being a sought after voiceover artist, Rory's radio credits include: Parenting, The Pied Piper of Hamlyn, A Midsummer Night's Dream, Children of No Importance, The Dead School, The Tempest, The Big Chapel, The Merchant of Venice and Wuthering Heights all for RTE Radio.
A graduate of the BA degree course in Drama and Theatre Studies in Trinity College, Dublin, Rory attended both the Coffee School of Drama and Young People's Theatre Group.
Rory is represented by United Agents in the U.K. Contact Dallas Smith at www.unitedagents.co.uk
---
Voiceover sample 1
| | |
| --- | --- |
| Listen: | |
| Download: | |
---
Voiceover sample 2
| | |
| --- | --- |
| Listen: | |
| Download: | |