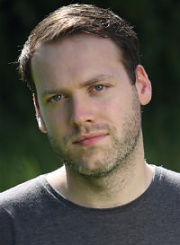 *to download videos, click play, then click the arrow on the upper right corner of the screen
Born in Dublin, actor and writer Rory now works between his hometown and London.
After graduating with a diploma in media production, Rory originally aspired to be a director but being in front of the camera soon became a more natural habitat for him.
Rory is one fifth of comedy group Diet of Worms. The group has been writing and performing together since 2006.
After making a few very, very low budget independent sketch shows, Diet of Worms embarked on a live career that included three Edinburgh Fringe shows, (including the sketch show Diet of Worms on Melted Ice, performed entirely in a swimming pool); two plays in the Absolut Fringe (including Strollinstown, which was nominated for the Fishamble New Writing Award); many performances in comedy clubs across Ireland and the UK as well as sold out shows in Whelan's, The Village and The Button Factory in Dublin.
Between 2007 and 2009 Rory and the Worms wrote and starred in a series of short online "mockumentaries" called Dublin Stories, which led to them making a pilot of the same name, for RTÉ 2.
In 2012 Rory played the lead in the multi-award winning short No Messages, which he has now adapted into a sit-com with writer/director Cian McGarrigle.
Next came the sponsored online series The Taste of Home which won the group and a Kinsale Shark Award and caught the attention of Graham Linehan. This led to the creation of The Walshes, directed by Linehan, which Rory co-wrote and starred in. The Walshes broadcast on BBC 4 and RTE 1 in 2014.
Click here to visit Rory's website.