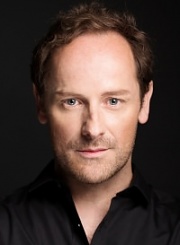 Ronan was last seen on stage in The Spider's House at the Project Arts Centre.
Film/TV credits include:
The Flag (Treasure Films), Out of Innocence (Defiant Films), Pursuit (An Pointe), Amber (Screenworks), Roy, Amongst Women (BBC/RTÉ), Jack Taylor (Magma), Single-Handed, On Home Ground (RTÉ), The Catalpa Rescue (CIS Australia) & Batman Begins (Warner Bros.)
Theatre credits include:
Hecuba, The Effect, The Critic, Travesties, Life is a Dream, Solemn Mass for a Full Moon in Summer (Rough Magic), Least like the Other (GIAF), Oedipus (Dir: Wayne Jordan), King Lear, Drum Belly, Curse of the Starving Class, Macbeth, The Resistible Rise of Arturo Ui, Romeo & Juliet, Henry IV (Part I), Da, Living Quarters, Observatory, At Swim Two Birds, The Passion of Jerome, By the Bog of Cats, The Doctors Dilemma, The Well of the Saints, Monkey, The Man Who Became a Legend, Se Mouse, The Corsican Brothers, Observe the Sons of Ulster Marching Towards the Somme, Philadelphia Here I Come! (The Abbey Theatre), Signatories, Borstal Boy (Verdant), Wuthering Heights, An Enemy of the People, Festen, All my Sons (Gate Theatre), The Colleen Bawn, Gentrification (Druid), The Winter's Tale, The Hairy Ape (Corcadorca), Creditors (C Company), Medea (Irish Times Theatre Award nomination), Titus Andronicus and La Musica (Siren), Moment (Tall Tales/Bush Theatre), The Case of the Rose Tattoo, La Marea (Dublin Theatre Festival), Gagarin Way (Island), Pyrenees (Hatch), Frozen (Cork Opera House), Roberto Zucco, Pale Angel, Wideboy Gospel (Bedrock), Invitation to a Journey, Tiny Plays for Ireland/America, The End of the Road, Whereabouts, The Flesh Addict (Fishamble), The Chairs (Tinderbox), Melon Farmer (Theatre Royal Plymouth), Russian Tales, White Woman Street (Meridian), Mister Staines (Pan Pan), Carshow (Corn Exchange), Easter Dues (Bickerstaffe), Romeo and Juliet (Second Age), Kiss of the Spider Woman (Tin Drum) & A Fine Day for a Hunt (Punchbag).