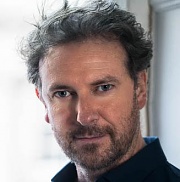 *to download videos, click play, then click the arrow on the upper right corner of the screen
Risteard was last seen on stage at the Almeida Theatre in Shipwreck
Risteárd most recently co-wrote and appeared in the second series of Après Match of the Day on
RTE
2 and at The Gate Theatre, Dublin in the musical "Jacques Brel is Alive and Well and Living in Paris". In early 2017 he played James Harley in Delicious – a new comedy-drama series with Dawn French and Emilia Fox for Bandit TV and SKY1.
Last year he co-wrote and starred in Après Match of the Day and Après Match Presents Election '82 for RTE television both of which received nominations at the 2016 IFTAS.
He played the singing serial-killer Laurie Gaskell in Paul Abbott's Channel 4 drama series "No Offence", also Charles Doyle in Houdini and Doyle (FOX/ITV), Sir Henry Coverly in ITV's "The Suspicions of Mr Whicher" and Fibar in Conor McPherson's play "The Weir" directed by Josie Rourke in the West End.
At the Abbey Theatre he played Higgins in "Pygmalion", directed by Annabelle Comyn, Joxer in Juno and the Paycock (also at the National Theatre, London) directed by Howard Davies and Pyper in "Observe the Sons of Ulster Marching Towards the Somme" directed by Robin Lefèvre. He has played numerous roles at the Gate Theatre including Septimus in Arcadia, Goring in An Ideal Husband, Charles in Blithe Spirit, Freddie in The Deep Blue Sea, Jerry in Betrayal and Dmitri in Brian Friel's The Yalta Game at the Sydney and Edinburgh Festivals. For Steppenwolf in Chicago he played Mickey in the American premiere of Jez Butterworth's Mojo directed by Ian Rickson.
He starred in the TV satire The State of Us, co-written and directed by Gerry Stembridge also for RTE/Peerpressure. Other TV and Film work includes Charlie, Batman Begins, The Closer You Get, This is Ireland (BBC), Bittersweet (Element/RTE), Chasing The Lions (Peerpressure/TV3) and the role of Setanta in TG4's An Crisis, a six-part Irish language comedy series produced by Wildfire. He will shortly bgin filming series two of "Delicious" and be seen in "Acceptable Risk" – a six-part conspiracy drama for RTE1 directed by Kenny Glenaan.
*Risteard is represented in the UK by Fiona McLoughlin at Independent Talent Group
---
Voiceover sample 1
| | |
| --- | --- |
| Listen: | |
| Download: | |
---
Voiceover sample 2
| | |
| --- | --- |
| Listen: | |
| Download: | |