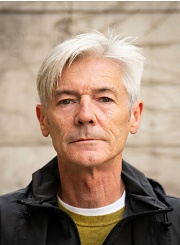 The following files are available for download by logged-in customers.

KeaneRaymondJA08.pdf
[CV, 177KB]
If you already have access details please
log in now

Need access? - Contact us to arrange password access
*to download videos, click play, then click the arrow on the upper right corner of the screen
Raymond Keane was last seen on stage in Company SJ's new show Company as part of the Dublin Theatre Festival 2018. He can now be seen on stage in Hansel and Gretel at the Abbey Theatre.
Raymond is a founding member of multi award winning Barabbas Theatre Company. www.barabbas.ie.  
Raymond's work as clown, actor, writer and director has appeared in almost every Irish Theatre and on international stages – London, Edinburgh, Wales, France, Denmark, Africa (Zimbabwe and Zambia), Japan, New Zealand and U.S.A. (New York, Washington, Kansas, Chicago, New Hampshire, Colorado and Connecticut).
He continues to collaborate with Sarah Jane Scaife (Company SJ) on her 'Beckett in the City' project that continues to tour nationally and internationally. So far this work has been presented at Dublin Theatre Festival, Dublin Fringe Festival, Cork Midsummer Festival, Enniskillen and Paris Beckett Festivals, Barbican Beckett festival London, River to River Festival New York and Tokyo. Most recently he performed in Ulysses at The Abbey Theatre and Samuel Beckett's Novella Company directed by Sarah Jane Scaife at Dublin Theatre Festival 2018.
Film and television appearances include Fair City, The Boy From Mercury, St. Patrick, Bloom, Sweety Barrett, Procession, The Lonely Battle of Thomas Reid, and Game of Thrones.
He teaches Theatre of Clown and Theatre Making at National University Ireland Maynooth, Gaiety School of Acting Dublin, The Lir Academy of Dramatic Arts Dublin and The Samuel Beckett School of Dramatic Arts Trinity College Dublin. He regularly mentors actors and artists.