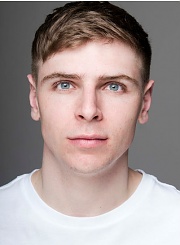 Peter was last seen on stage in Rough Magic's production of A Portrait of the Artist as a Young Man.
Peter is a graduate of Trinity College Dublin's BA in Drama and Theatre Studies.
He was most recently seen on stage at the Dublin Fringe Festival, in Malaprop's brand new show Everything Not Saved. Previous credits include The Water Orchard (Collapsing Horse Theatre Company) Outlying Islands (Sugarglass Theatre and Columbia University, New York), Our Island (Mirari Productions, Fringe Best Performer nominee) and Far Away From Me (The Ark, national tour).
He has performed as part of the Dublin Fringe (At Sea, The Last Post, Anna in Between), Galway Fringe (This is the Day), Rough Magic SEEDS (Assassins), Dublin Theatre Festival (The Critic) and Irish Student Drama Awards (Life in Our Blood, ISDA Best Actor winner).
Peter has also performed at the National Academy of Theatre & Film Arts in Sofia and Áras an Uachtaráin as part of the cast of Ethica: Four Shorts by Samuel Beckett, a co-production between Sugarglass Theatre and Trinity College Dublin originally performed by invitation of the Irish ambassador to Bulgaria.