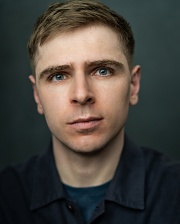 Peter was last seen in Malaprop's production of Before You Say Anything as part of the Dublin Fringe Festival.
Peter is a graduate of Trinity College Dublin's BA in Drama and Theatre Studies.
Film/TV credits include:
Fair City (RTÉ), Everything Not Saved (Malaprop, RTÉ) & What Do You Want (Music Video, Dir: Luke Daley).
Theatre credits include:
Much Ado About Nothing (Dir: Ronan Phelan, Rough Magic), A Midsummer Night's Dream (Dir: Lynne Parker), A Portrait of the Artist as a Young Man (Rough Magic, Dir: Ronan Phelan), Everything Not Saved (Dublin Fringe Festival/Malaprop), Mister Burns: A Post-Electric Play (Rough Magic), Outlying Islands (Sugarglass Theatre and Columbia University, New York), The Water Orchard (Collapsing Horse), Far Away from Me (The Ark), Our Island (Mirari Productions, Fringe Best Performer Nominee), At Sea (Dublin Fringe), Ethica: Four Shorts by Samuell Beckett (Sugarglass Theatre/Trinity College Dublin), Life in Our Blood (ISDA, Best Actor Winner) The Critic & Assassins (Rough Magic).