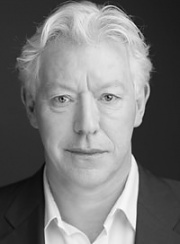 *to download videos, click play, then click the arrow on the upper right corner of the screen
Nick can now be seen on stage in Hamlet at The Gate Theatre, opposite Ruth Negga.
Nick recently appeared in his second season of STRIKING OUT in the recurring role of Amy Huberman's father Conrad Rafferty for Blinder Films/RTE/AcornTV. He most recently appeared as Dr Bangs in LITTLE WOMEN for BBC One/PBS. Other recent screen credits include William Baylet in FATHER BROWN (BBC) and RM Sir Frederick Stewart in MY MOTHER AND OTHER STRANGERS (BBC). Other recent screenwork includes THE FRANKENSTEIN CHRONICLES (ITV), recurring leading role of Malachy Griffin in QUIRKE (BBC), recurring role in HATFIELDS AND MCCOYS (History Channel) and a recurring role in iNJUSTICE (ITV)
On stage Nick most recently appeared in TRIBES (Gate Theatre Dublin) directed by Oonagh Murphy and LET THE RIGHT ONE IN (Abbey Theatre, Dublin) directed by John Tiffany. He also recently appeared in ANNA KARENINA and YOU NEVER CAN TELL at the Abbey Theatre Dublin.
Other screen work includes: Lupo Meruci in both seasons of DA VINCI'S DEMONS (BBC) , and Nick appeared in 20 episodes across several seasons of The Tudors in the role of Sir Thomas Boleyn opposite Jonathan Rhys Meyers for Showtime Television/BBC and won an IFTA in February 2008 for Best Supporting Actor for that role in The Tudors Season I. In the same month he also won the Irish Times Theatre Award 2008 for Best Actor for his role in Don Carlos, directed by Lynne Parker for Rough Magic Theatre Company, Dublin. Nick appeared in the two-part TV drama for RTE, Whistleblower which was nominated for an IFTA in 2009 and in Kiri Skogland's new feature film Fifty Dead Men Walking. He appeared in the role of Dr. Hersbach in Triage directed by Danis Tanovic for Parallel Films which premiered at the Toronto Film Festival, 2009.
Other appearances at the Abbey and Peacock Theatres include Henry IV in Henry IV (Part One), Gerard Stembridge's That Was Then, Mrs Warren's Profession, The Marriage of Figaro and The Last Ones. He appeared in The Homecoming by Harold Pinter at the West End, a production which originated at The Gate Theatre and was seen in New York as part of the Pinter Festival (2001). Nick appeared in the title role in The Misanthrope directed by Alan Stanford for the Gate Theatre, Dublin. Other theatre includes; The Taming of The Shrew and Happy End (Royal Shakespeare Company), Richard III, Countrymania (Royal National Theatre), Our Country's Good, Doing The Business, Glasshouses, Beside Herself (Royal Court Theatre), Othello (Lyric Hammersmith) and twelve shows with Shared Experience. Television credits include; The Return, The Firm, The Bill, Saracen, El Cid, The Rory Bremner Show, The Roughest Way, The Rita Rudner Show, Events at Drimagleen, Alive and Kicking, Resnick, Minder II, Boon, Casualty, Between the Lines, Sister My Sister, Medics, A Few Short Journeys of the Heart, Drop the Dead Donkey, Wycliffe, Sharman, Into The Blue, Making The Cut, The Ambassador, Midsomer Murders, Vanity Fair, Surgical Two, Dangerfield and Ultimate Force. Films include Jim Sheridan's forthcoming In America, Dark Angel, Highbinders (with Jackie Chan), The Supergrass, Fifth Province, London Kills Me and Lamb. Nick appeared in The Drunkard, a new adaptation by Tom Murphy, directed by Lynne Parker for B*spoke Theatre Company and Galway Arts Festival in the Olympia Theatre, Dublin and on tour. On film Nick appeared as Attalus in Alexander The Great, written and directed by Oliver Stone and starring Colin Farell and went on to appear as Thomas Boleyn, opposite Jonathan Rhys Myers in The Tudors (Showtime/BBC) for two seasons. In recent years Nick appeared as Gayev in the Abbey Theatre's production of The Cherry Orchard in a new adaptation by Tom Murphy, directed by Patrick Mason, in Mark Brokaw's acclaimed production of The Price at the Gate Theatre, Dublin, in The Homeplace directed by Adrian Noble for the Gate Theatre, Dublin (which transferred to the Comedy Theatre in London's West End in 2005) in Robin Le Fevre's production of Betrayal at the Gate Theatre Dublin as part of it's Pinter Season 2005 and as Sir Oliver Surface in Sheridan's The School For Scandal directed by Jimmy Fay at the Abbey Theatre, Dublin and in the title role of Don Carlos directed by Lynne Parker at the Project Arts Centre, Dublin for Rough Magic Theatre Company.
Nick appeared in the Gate's acclaimed production of Harold Pinter's No Man's Land with Michael Gambon, David Bradley and David Walliams and directed by Rupert Goold, which transferred to London's West End in 2008 and ran until early 2009. Nick appeared in The Rivals as Sir Anthony Absolute, directed by Patrick Mason at the Abbey Theatre, Dublin and in The Seafarer written and directed by Conor McPherson at the Abbey Theatre, Dublin and appeared as Valmont in Les Liaisons Dangereuses directed by Michael Barker Caven at the Gate Theatre Dublin. Nick most recently appeared on stage as Colonel Pickering in Annabelle Comyn's acclaimed production of Pygmalion at the Abbey Theatre, Dublin. He recently appeared in Rough Magic's production of Plaza Suite at the Pavillion Theatre, Dun Laoighaire.
---
Voiceover sample 1
| | |
| --- | --- |
| Listen: | |
| Download: | |