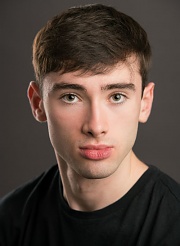 Nathan can now be seen in the lead role in BBC Three's brand new comedy drama, My Left Nut opposite Sinéad Keenan, now available on the BBC iPlayer.
At the age of 14, Nathan was cast in 'Macbeth' (2015), touring The Lyric Theatre, Belfast and Smock Alley Theatre in Dublin.
Outside of theatre Nathan has a keen interest in poetry and in 2016 won the All- Ireland Poetry Aloud Competition, beating some 1600 other contestants from schools across the island of Ireland. Throughout the course of the next year Nathan was invited back to The National Library of Ireland to read at two separate events, one of which commemorated the work of wartime poet Francis Ledwidge, an event hosted by Irish Novelist and poet, Dermot Bolger.
Last summer Nathan worked as 3rd Assistant Director on two short films, 'Ruby', starring Kate O'Toole and Dan Gordon, and 'Father Father', starring Martin McCann, Ian McElhinney and Diona Doherty.