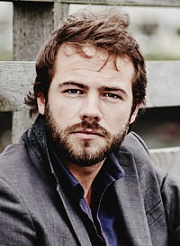 *to download videos, click play, then click the arrow on the upper right corner of the screen
Moe recently wrapped a recurring role in BBC's brand new TV series The Dublin Murders (Element/BBC/Starz) opposite Sarah Greene, Killian Scott and Tom Vaughan-Lawlor which will air in late 2019.
In 2017 Moe shot the role of Martin in Kevin Barry's DARK LIES THE ISLAND, directed by Ian Fitzgibbon , (Grand pictures) , played the adult lead Dan in METAL HEART, directed by Hugh O'Connor, (Treasure ) and appeared in STRIKING OUT season 2 , (Blinder/RTE) playing Sam opposite Amy Huberman on RTE and Acorn TV.
At the end of 2017 he wrapped filming the lead role Callaghan in THE DIG directed by Andy and Ryan Tohill which won best feature at Galway Film Fleadh, premiered at Toronto Film Festival, and goes on general release in April 2019.
He played the role of Fitzgibbon in BLACK 47 directed by Lance Daly for Fastnet Films starring Hugo Weaving and Jim Broadbent which premiered at the 2018 Berlin Film Festival and in the Dublin International Film Festival. Moe appears as David in Frank Berry's feature film MICHAEL INSIDE which won best feature at the Galway Film Fleadh and which won the Best Film award at the 2018 IFTA's.
Moe played the male lead (John Paul) opposite Sarah Greene in Roddy Doyle's feature film ROSIE directed by Paddy Breathnach for Element Films which won best Irish film from Dublin Film Critics Circle Awards and will be released across U.K cinemas on March 8th.
Moe appeared in the series regular role of Aethelwulf opposite Linus Roache and Travis Fimmel in the hit TV series VIKINGS for History Channel/MGM for 4 seasons (2014-2018) culminating in his final appearance in Season 5 on History Channel and on RTE2. Moe was awarded the IFTA for Best Supporting Actor, TV Drama 2016 for his work across all his seasons of VIKINGS and was nominated in the same category again in the 2017 & 2018 IFTA Awards.
Moe appeared as Pascal in John Butler's award-winning feature film HANDSOME DEVIL opposite Andrew Scott, directed by John Butler and produced by Treasure Films in 2016 and appeared in THE FLAG with Pat Shortt, directed by Declan Recks and produced by Treasure Films in 2017 and in THE LODGERS directed by Brian O'Malley for Tailored Films in 2018.
Moe was chosen as a Shooting Star for Ireland at the Berlin International Film Festival 2015.
Moe was awarded the IFTA 2015 for Best Lead Actor for his role as Patrick in PATRICK'S DAY directed by Terry McMahon. He was nominated for the prestigious Bingham Ray New Talent Award at the Galway Film Fleadh 2014 for his work on this movie which won the Best Feature Award at the same festival. Moe also won the award for best actor at the Hell's Half Mile Film Festival in Michigan amongst several other international awards and nominations. Moe also picked up Best Actor for his lead role in PATRICK'S DAY at the 11th edition of ÉCU – The European Independent Film Festival.
PATRICK'S DAY received critical and audience acclaim at festivals across Europe and North America and was chosen as the Irish entry for the Directors Guild Finders Series Award. PATRICK'S DAY won the "Maverick" Grand Jury Prize winner of the 15th Woodstock Film Festival for best film.
Other screen work includes season two of GAMEOF THRONES (HBO), RAW Series 5 in the recurring role Niall for Octagon/RTE, the recurring role of Christian in AN CRISIS directed by Charlie McCarthy for Wildfire Films/TG and of Richard Leland in Season 4 of THE TUDORS for Showtime/BBC.
Moe graduated from the Gaiety School of Acting Full Time Acting Course in June 2009. In theatre, Moe played John Hinckley in ASSASSINS, a Rough Magic Seeds production, Dmitri in THE BROTHERSKARAMAZOV directed by Nicholas Johnson at the Samuel Becket Theatre in 2014.He appeared in SQUAT directed by Oonagh Murphy, as Brutus in TEXT|MESSAGES and as Tybalt in Corcadorca's production of ROMEO AND JULIET directed by Pat Kiernan at the Cork Opera House.
Moe appeared in the Hozier's music video 'Cherry Wine' opposite Saoirse Ronan. This video was made to raise awareness and funds for domestic abuse charities worldwide (see video above).
Moe Dunford is represented in the UK by Markham, Froggatt & Irwin, and by Paradigm Agency in the United States.