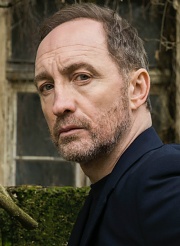 Michael McElhatton is a multi award-winning Irish actor.
He has recently wrapped as 'Jean de Merteuil' in Dangerous Liaisons (Starz) and is currently shooting on the current season of Jack Ryan for Amazon Prime. Also, for Amazon, Michael can currently be seen in the role of 'Tam al Thor' in the hugely popular adaptation of WHEEL OF TIME.
Other recent work includes the film, The Last Duel directed by Ridley Scott, TV shows The Alienist and Das Boot and Justice League directed by Zack Snyder. He played 'Jim Kavanagh' in The Foreigner directed by Martin Campbell and the highly successful TV series Genius opposite Geoffrey Rush. Other notable feature film appearances include The Zookeeper's Wife with Jessica Chastain, directed by Niki Caro and Guy Richie's King Arthur: Legend of the Sword. In 2015, he appeared opposite Rachel Griffiths in Mammal (Rebecca Daly), which premiered at The Sundance Film Festival. Other roles in 2015 include 'McEntee' in Jadotville (Richie Smyth), and 'Walter Curly' in Handsome Devil (John Butler).
Michael appeared in the key role of Lord Roose Bolton in HBO's hit television series, Game of Thrones across five seasons (19 episodes) of the show.
Other film and TV project includes: Liam Hughes in Shadowdancer, James Clarke in Superhero, (Ian Fitzgibbon, Tribeca Film), Mr Moore in Albert Nobbs, (Rodrigo García, Mockingbird), Shadow Dancer (BBC/ATO), Albert Hatton in Titanic, Blood and Steel (Ciarán Donnelly for DAP). He appeared in series regular roles seasons one of Ripper Street (BBC) and The Fall(BBC). Other recent work includes Frank in Parked (Darragh Byrne, Rippelworld) and Pat Lynch in the Oscar-nominated short Pentecost (Peter McDonald, EMU). Other recent work includes Ross in The Santa Incident for Parallel Films/Hallmark and Heuber in Zen for the BBC (director, Simon Bourke).
His theatre work includes: Romeo and Juliet (Abbey), The Seafarer(National Theatre, London), Shining City (Royal Court/Gate Theatre), Twenty Grand (Abbey), The Wexford Trilogy (Tricycle), An Ideal Husband (Gate Theatre), The White Devil (Loose Canon), Car Show (The Corn Exchange), Greatest Hits, The Midnight Court (Project Arts Centre), The Way of the World (Rough Magic), A Decision Pure and Simple (Riverside Studio), An Enemy of the People (Young Vic), As You Like It (Rose Theatre), The Wind in the Willows (Sheffield Crucible), Little Malcolm and the Struggle Against the Eunuchs (Basingstoke/BAC), Handsome, Handicapped and Hebrew (Grove Theatre), Elizabeth Barton (Tabard Theatre) and Water Music (Cockpit Theatre). In 2014, he appeared in a new play by Conor McPherson called The Night Alive with Ciarán Hinds and Brían Gleeson, which opened in the Donmar Warehouse before transferring to the Atlantic Theater in New York where it received rave reviews.
Other Films include Man on the Run, The Tiger's Tail, Mickybo and Me, Spin the Bottle, Intermission, The Actors, Blowdry, Saltwater, Crush Proof, Just in Time, All Souls' Day, I Went Down and November Afternoon. Television credits include Whistleblower, Hide and Seek, Paths to Freedom, for which he received an Irish Film and Television Award for Best Actor, Fergus's Wedding, (RTÉ), Aristocrats, Vicious Circle, Rebel Heart, The Ambassador (BBC), My Boy Jack (Ecosse) and The Loser (Channel 4). Writing credits include Paths to Freedom, Fergus's Wedding and Spin the Bottle, Parked, Happy Ever Afters, Fifty Dead Men Walking.
---
Voiceover sample 1
| | |
| --- | --- |
| Listen: | |
| Download: | |