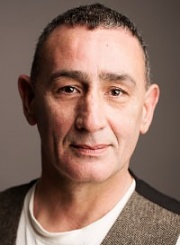 Michael was last seen on stage in Fishamble's tour of Haughey/Gregory
Michael received a full scholarship and trained at The Royal Academy of Dramatic Art, London.
Michael recently appeared in the role of Soapy Smith in the TV series Klondike for TG4/Abu Media.
Most recently Michael appeared in The Aul Fella, a Show in A Bag production written by Michael and directed by Karl Quinn for the Dublin Fringe Festival 2015. Michael appeared in both the original and remounted productions of the multi-award winning trilogy of Tom Murphy plays DruidMurphy directed by Garry Hynes for Druid Theatre Company. Having opened in the Galway Arts festival and toured to New York and the UK. Michael went on to appear in Faith a new play by Paul Meade in the Civic Theatre and on tour.
His other recent theatre appearances include: Dinny in Enda Walsh's multi-award winning play The Walworth Farce, directed by Mikel Murfi for Druid Theatre Company on national and international tour to UK, Canada, America, Australia and New Zealand, as Vincent in Bernard Farrell's new play Bookworms (and its recent remount) directed by Jim Culleton at the Abbey Theatre, Dublin and as Major Coffin in Arrah Na Pogue directed by Mikel Murfi at the Abbey Theatre, Dublin. He appeared in Fishamble's The End of The Road written by Gavin Kostick and directed by Louise Lowe for Temple Bar Trust, in Performance Corporation's Slattery's Sago Saga directed by Jo Mangan and in The Colleen Bawn at The Project Arts Centre and on tour across Ireland, directed by Jimmy Fay for Bedrock Theatre Company. Michael also appeared as The Judge in Roddy Doyle's adaptation of The Government Inspector directed by Jimmy Fay at the Abbey Theatre, Dublin and most recently as Capulet/Laurence in Romeo and Juliet directed by Conor Hanratty for Second Age Theatre Company
His other theatre appearances include:, Shining City (Rapture Theatre and on tour to Scotland and the UK); The Last Days of Judas Iscariot (Making Strange Theatre Company); The Shadow of a Gunman, Molly Sweeney, Whistle in the Dark (Glasgow Citizens Theatre), Molly Sweeney (The National Theatre of Scotland); The Weir, A Whistle in the Dark (Haymarket Theatre), Beauty and the Beast (Belgrade Theatre); The Flags, Up on the Roof and The Lonesome West (Hull Truck), Playing the Victim (Royal Court/Told By An Idiot), The Firework-Maker's Daughter (Sheffield Crucible/Told By An Idiot), When We Are Rich, Brothers of the Brush (The Nuffield Southampton); Of Mice and Men (The Octagon Bolton/York Theatre Royal and on tour to the Middle East), The Lonesome West (Bolton Octagon); Zoo Story, The Architect and the Emperor of Abbysinia (The Gate Theatre, London); Of Mice and Men (Bolton Octagon); SVEJK (Notting Hill Gate Theatre), Kafka's Dick, A Midsummer Night's Dream and Les Liaisons Dangereuses (York Theatre Royal); A Midsummer Night's Dream (Northcolt Theatre, Exeter); Playboy of the Western World (Abbey Theatre, Dublin; Bristol Old Vic and Leicester Haymarket), Villette (Sheffield Crucible), Of Mice and Men (Centreline/Baroque Productions), A Sentimental Journey (Regents Park Open Air Theatre), Woyzeck and A Midsummer Night's Dream (Compass Theatre), Othello (Waterman's Arts Centre and National Tour), Spirit of the Frontier (Royal Shakespeare Company Fringe), The Tinker's Wedding (King's Head Theatre), A Light for the Florescent Witch (Hackney Empire) and A Christmas Carol(Shaw Theatre).
FILM and TV work includes: Swansong (Florin Film); Taggart (STV), Like Father, Like Son (ITV), Silent Witness (BBC), Catherine Cookson's Dinner of Herbs (Festival Films), Big Bad World (Carlton), Rough Treatment (World Productions), Rope Trick (BBC), Colourblind (Festival Films) and The Bill (Carlton).Radio credits include Smokes and Daggers and Forgetting Curve (BBC Northern Ireland).