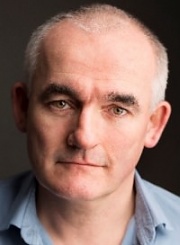 Martin Murphy has worked as a performer, on stage, film, radio and TV since 1984. Theatre includes Charabanc, Druid, Bickerstaffe (Double Helix), The Gate (Shadow Of A Gunman), the Abbey (Sarcophagus, Trojan Women), Second Age (Merchant Of Venice) Prime Cut (Stone and Ashes), and most notably Rough Magic, for whom he appeared in more than ten shows including Berkoff's Decadence, No End Of Blame (Harvey's Award Best Newcomer 1985), Serious Money, The Dogs and Lady Windermere's Fan. He also directed numerous shows for TEAM Theatre Co. from 1997 – 2004, including the premieres of 9 new plays by Irish writers.
Film includes In The Name Of The Father, Michael Collins, Nora, Braveheart (where he was 'mooned at' by 1600 of Scotland's finest), Pitch 'n' Putt with Joyce and Beckett and The Tiger's Tail.
TV includes Singlehanded, and The Tudors. On radio Martin is an accomplished voice over artist. His own plays have been produced by Bickerstaffe (The Gingerbread Mix-up; Frankly My Dear) and TEAM Theatre Co. (Good As Gold; The Making of Antigone Ryan). His adaptations of Can You Catch A Mermaid and Peter Pan were produced by Pavilion Theatre, Dun Laoghaire in 2008/9. He lives in Bray with his wife and two children.