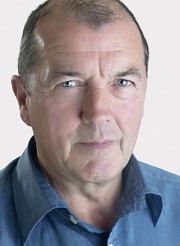 Mark can now be seen on screen in season two of Blood on Virgin Media One. He was last seen on stage in the Abbey's production of Drama at Inish.
Mark's work at The Gaiety includes Borstal Boy, Translations, Moll, Taking Steps, Aladdin, The Field, and recently The Chastitute. Mark most recently appeared in Assassins at the Gate Theatre and Angela's Ashes The Musical at the Bord Gais Theatre. He performed in A Day in May directed by Gerry Stembridge.
Film and Television credits include Nighthawks, Revenge, Upwardly Mobile, Showbands (RTE); Father Ted (Channel 4); Anytime Now (BBC); The Dawning,, The Commitments, The Life of Reilly, Black Day at Blackrock, Angela's Ashes, Anytime Now, Into the West, Uncle Bill's Barrell, The Last of the High Kings, Leap Year, Milo and more recently Wait for Me, due for release later this year.
At the Gate theatre he has appeared in Assassins, Juno and the Paycock, A Month in the Country, Pride and Prejudice, The Vortex, Arcadia, The Old Curiosity Shop, Sweeney Todd, Festen, Fathers and Sons, Sharon's Grave, Peer Gynt, Three Sisters, The Threpenny Opera, Twelfth Night, London Assurance, A Christmas Carol, As You Like It, All My Sons and The Rivals.
His work at the Abbey Theatre includes Alice in Funderland, The School for Scandal, I Do Not Like Thee Dr Fell, The Plough and the Stars, Juno and the Paycock, The Memory of Water, The Invisible Mending Company, Observe the Sons of Ulster Marching Towards the Somme, Saint Joan, The Last Apache Reunion, A Strange Occurrence on Ireland's Eye, Chamber Music and The Broken Jug.
Other work: King Ubu (Galway Arts Festival); Bleeding Poets (New Theatre); The Ghost Show (West Cork Fit-Up Festival); Eejit of Love (Samuel Beckett Theatre); Dodgems (O'Reilly Theatre); Anglo the Musical (Bord Gais Theatre); Spenser's Laye (Assembly Rooms, Edinburgh); Twelfth Night (Japan); Moll (Manhattan Town Hall, New York); The Cripple of Inishmaan (Centaur Theatre, Montreal); Woman and Scarecrow (National tour and Centre Culturel Irlandais, Paris) and Pride and Prejudice at the Hong Kong Arts Festival.