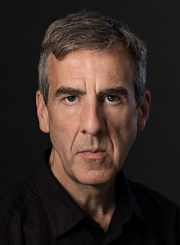 Mark can now be seen on screen in RTE's Finding Joy, written by Amy Huberman.
Mark Doherty is a writer and performer, with a wealth of experience from stand-up to radio, theatre, tv and film.
Film/TV credits include:
Finding Joy, Nowhere Fast (RTÉ), Handsome Devil (Treasure Entertainment), Red Rock (TV3), Moone Boy (Sky TV), Burning Wishes (RTÉ), Get Up & Go (Fastnet Films), Talk it Out (Failsafe Films), Albert Nobbs) (Parallel Films), Love/Hate (RTÉ), The Runway (Fastnet Films), Ondine (Octagon Films, Dir: Neil Jordan), A Film with Me in it (also written by Mark), Soupy Norman (RTÉ), Time Trumpet (BBC), Breakfast on Pluto (Dir: Neil Jordan), The League of Gentleman's Apocalypse (Universal Pictures), The Clinic (RTÉ), The Magnificent Ambersons (A+E Networks), Disco Pigs (Vanguard Cinema), Rebel Heart (BBC), Rat (Samson Films), Ballykissangel (BBC) & Father Ted (Channel 4)
Theatre credits include:
Lunch (Steven Berkoff), Accidental Death of an Anarchist, Endgame, Car Show (Corn Exchange), The Hostage & The Government Inspector (The Abbey Theatre).