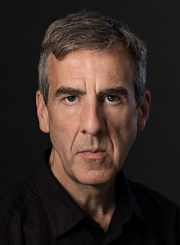 The following files are available for download by logged-in customers.

Doherty MarkSP12.pdf
[CV, 402KB]
If you already have access details please
log in now

Need access? - Contact us to arrange password access
*to download videos, click play, then click the arrow on the upper right corner of the screen
Mark can now be seen on screen in RTE's Finding Joy, written by Amy Huberman.
Mark Doherty is a writer and performer, with a wealth of experience from stand-up to radio, theatre, tv and film. He has just completed filming on Nowhere Fast, Alison Spittle's new comedy for RTE (Deadpan Pictures), due for transmission in October, in which he plays Alison's stepfather, John. He recently appeared as D.I. Lonergan in Red Rock, and as Mr. Cunningham in Handsome Devil (John Butler). Mark played Fr. Linehan, the parish priest, in 3 series of Chris O'Dowd's hugely successful Moone Boy, for Sky TV.
Other TV and film work includes Burning Wishes (RTE), A Film with Me in It (opposite Dylan Moran), which Mark also wrote, Soupy Norman (with Barry Murphy), The Runway (Fastnet Films), Breakfast on Pluto and Ondine (Neil Jordan), The League of Gentlemen's Apocalypse, Miranda Hart Unwrapped (BBC) and Time Trumpet (with Armando Ianucci).
Theatre credits include Lunch (Steven Berkoff), Accidental Death of an Anarchist, Endgame, Car Show (Corn Exchange), and The Hostage and The Government Inspector, both at the Abbey Theatre.
Mark's play Trad was first directed by Mikel Murfi for Galway Arts Festival in 2004 and went on to appear at the Perth and Adelaide Theatre Festivals, the Edinburgh theatre festival and at the Bush Theatre, London. It has been published by Methuen as part of their 2006 'Six Contemporary Plays Collection'.
---
Voiceover sample 1
| | |
| --- | --- |
| Listen: | |
| Download: | |