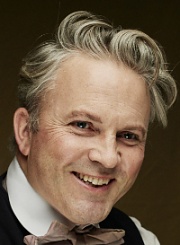 Louis was last seen on the Abbey stage in Theatre Lovett's production of FRNKNSTN.
Louis is currently working with The Corn Exchange in The Seagull (premiere Dublin Theatre Festival 2016). Previous theatre work includes Bedroom Farce (The Gate Theatre); The Making of 'Tis Pity she's a Whore (Siren Productions); B for Baby (Best Actor Nominee, The Irish Times Theatre Awards 2010), Bookworms and She Stoops to Conquer (The Abbey Theatre); Improbable Frequency, The Life of Galileo (Rough Magic); Freefall, Dublin by Lamplight (Corn Exchange), Slattery's Sago Saga, The Butterfly Ranch (Performance Corporation); The White-Headed Boy, God's Gift (Barabbas…the Company) and more.
Louis is Joint Artistic Director of Theatre Lovett whose work includes They Called Her Vivaldi, The True Story of Hansel and Gretel (Dublin Theatre Festival 2015), Mr. Foley, The Radio Operator, A Feast of Bones (Dublin Theatre Festival 2013), The House that Jack Filled (Dublin Theatre Festival 2012) and The Girl who Forgot to Sing Badly (The Ark/Theatre Lovett, US/AUSTRALIAN tours). Louis has performed in and directed several productions at The Ark, A Cultural Centre for Children. Television & Film includes Moone Boy, Stella Days, Anseo, Killinascully, The Tudors, Showbands, Story Lane, The Morbegs,; Radio: All that Fall, Embers (Gare St. Lazare Players / RTÉ Radio1); The Quest (Lyric FM); The Third Policeman's Ball and Who's Afraid of Virginia Woolf? (RTÉ Radio1).