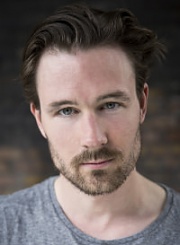 *to download videos, click play, then click the arrow on the upper right corner of the screen
Laurence has just wrapped on Nightflyers, the brand new George R.R. Martin television series for SyFy and Netflix, due for release later this year.
Laurence graduated from the Gaiety School of Acting in 2013.
Laurence will next appear in the TV series Nightflyers, as well as Mary McGuckian's brand new feature A Girl from Mogadishu due for release later this year. Other recent film credits include the short film Black Peak directed by Danielle Bayliss.
He was most recently seen on stage at Smock Alley, in Reality:Check's production of The Boys, directed by Tracy Ryan. Other recent theatre credits include Othello (Abbey Theatre), and Hostel 16 as part of the Dublin Fringe in 2015.
He also appeared in Self Portrait which he wrote and performed in Smock Alley Theatre as part of the Collaborations Theatre Festival 2013. He then co-wrote and performed in Boyz of Harcourt Street which ran in Smock Alley Theater and A Picture of us: A (Sort of Musical), In Theatre Upstairs. Laurence is a co-founder and active member of two theatre company's: Rocket Octopus Theater and The Cup Theatre Company. Other theatre credits include the Gaiety graduation play Town/Country by Gary Duggan and The Tenements by Lee Coffey. As part of the GSA Manifesto program Laurence collaborated with Karl Shiels to produce Yellow Jumper, a piece he performed as part of the Cup Theatre Company's Gaslights Cabaret.
Laurence appeared as the role of Cragg in Brendan Behan's Borstal Boy in the Gaiety Theatre this year, directed by Conall Morrison. He will also be appearing in season three of Vikings, which airs in 2015.