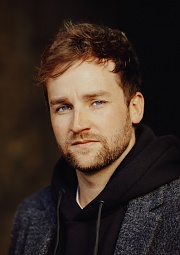 Killian is currently shooting the role of Dessy O'Malley in CALL THE MIDWIFE (BBC 1). Killian can now be seen on screen in BBC3/Hulu's celebrated new series Normal People. He is also currently appearing in Fair City, on RTÉ.
Killian is a Dublin based Actor & Producer and graduate of the full-time Professional Actor Training course at the Gaiety School of Acting 2015. He is an Executive Producer for Reality:Check Productions.
Film/TV credits include:
The Invisible Boy (Short Film), Dublin Murders (BBC One), Finding Joy (RTÉ), Rosie (Element Pictures), Krypton (Syfy), Man to Man (Short Film), Grabbers (Samson Films) & Death of a Superhero (Grand Pictures).
Theatre credits include:
The Boys (Reality:Check), The Spinning Heart (Verdant Productions), All That We Found Here (Sarah Bradley), Young Skins (Reality:Check), Reasons to be Pretty (Untold Wants), Hamlet (GSA Shakespeare), Lockdown (The New Theatre Productions), A Christmas Carol (Smock Alley) & The School for Wives (AC Productions).