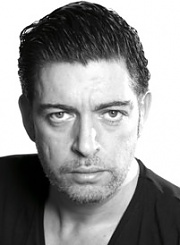 The following files are available for download by logged-in customers.

Shiels,KarlJN12.pdf
[CV, 298KB]
If you already have access details please
log in now

Need access? - Contact us to arrange password access
*to download videos, click play, then click the arrow on the upper right corner of the screen
Karl appeared in the recurring role (Neil Sutherland) in Titanic: Blood And Steel a TV Drama directed by Ciaran Donnelly for DAP in 2012 and in Steven Soderbergh's Haywire in the same year. Recent screen work includes roles in Stitches (Fantastic Films), Shadow Dancer (Magnolia Pictures), Savage (SP Films), Foyle's War (ITV) and in Peaky Blinders with Cillian Murphy (BBC), The Walshes (ITV1) directed by Graham Linehan, Fair City (RTE) as Robbie Quinn and in the new feature film Noble with Deirdre O'Kane, Liam Cunningham and Sarah Greene, directed by Stephen Bradley for Destiny Films and due for release in 2014.
Karl is Artistic Director of Irish company Semper Fi and has directed many projects for them including Ladies and Gents for the Dublin Festival (Fringe Festival Sexiest Show Award) which won a Fringe First Award in Edinburgh (2004) and the 2005 Dublin Fringe Festivals best selling show Adrenalin, he has since directed God's Grace for that company and Gregarin Way for Island Theatre Company, Limerick. He won the best Actor Award at the Dublin Theatre festival for his role in Comedians in 1999. Extensive acting work for the Abbey includes Beauty in a Broken Place, At Swim -Two Birds, The Barbaric Comedies and Henry IV (Part One). Karl appeared as Mark in Duck, directed by Max Stafford Clarke for Out Of Joint and The Royal Court, in the Peacock Theatre, the Theatre Upstairs at the Royal Court and on tour. Other theatre work includes The Shadow of a Gunman (Lyric, Belfast) The Spanish Tragedy, The Duchess of Malfi (Loose Canon), This Lime Tree Bower, the acclaimed Howie the Rookie (Bush Theatre and international tour and the Peacock Theatre), Hamlet, Oedipus Loves You (Pan Pan) Sleeping Beauty (Helix Theatre) and the remounted production of Howie The Rookie directed by Jimmy Fay at the Peacock Theatre, Dublin.
Karl's television work includes The Clinic (RTE), Doctors (BBC), Any Time Now (BBCNI), Attachments (BBC2) and On Home Ground (RTE).
Film work includes Batman Begins, Veronica Guerin, Intermission, Mystics and Capital Letters for which he was nominated for an IFTA for Best Actor in 2004. Karl also appeared as Che Guevara opposite John Hurt in the award winning short Meeting Che Guevara and the Man from Maybury Hill. Karl toured Canada in Oedipus Loves You with Pan Pan Theatre Co.
He appeared in the role of Victor in Prosperity a new TV mini-series written by Mark O'Halloran and directed by Lenny Abrahamson for Element TV/RTE 2. Karl appeared as the role of Breffini in Eden the feature film based on the play of the same name by Eugene O'Brien, directed by Declan Recks for Samson Films and due for release in 2008.
Karl appeared in The Pride of Parnell Street a new play by Sebastian Barry, directed by Jim Culleton for Fishamble Theatre Company at the Tricycle Theatre, London and as part of Dublin Theatre Festival 2007. In 2008 Karl appeared as Tybalt in Romeo and Juliet directed by Jason Byrne at the Abbey Theatre, Dublin and went on to re-appear in The Pride of Parnell Street at the Long Wharf theatre in New Haven, Conneticut and on tour after which he appeared in the multi-award winning Abbey Theatre production of Mark O'Rowe's play Terminus at the Traverse Theatre for the Edinburgh Fringe Festival 2008. He went on to appear in Jimmy Fay's acclaimed production of The Resistable Rise of Arturo Ui at the Abbey Theatre, Dublin, in The Comedy of Errors directed by Jason Byrne at the Abbey Theatre, Dublin and on tour with the Abbey theatre's production of Terminus written and directed by Mark O'Rowe. Karl appeared as Tommy in Ouroboros production of The Death Of Harry Leon by Conall Quinn, directed by David Horan for which he was nominated for an Irish Times Theatre Award for Best Supporting Actor for in 2009 and appeared as Macduff in Macbeth, directed by Jason Byrne at the Abbey.
Karl appeared in Penelope a new play by Enda Walsh for Druid Theatre Company which won a Fringe First at the Edinburgh Festival 2010 and for which Karl was nominated for a Best Actor Award in the 2010 Stage Awards and an Irish Times Theatre Awards Best Actor Award in 2011. Penelope went on to appear at St. Ann's Warehouse in New York where it received huge critical acclaim and subsequently appeared at the Hampstead Theatre, London and the Studio Theatre in Washington DC. He since appeared as Goldfish in The House by Tom Murphy, directed by Annabelle Comyn at the Abbey Theatre, Dublin, and in Drumbelly directed by Sean Holmes at the Abbey Theatre, Dublin.
Karl is the artistic director of the Theatre Upstairs at Lanigan's Bar, Dublin and was awarded the 2013 Irish Times Special Judges Award in recognition of his contribution to Irish Theatre in that venue.
Click here for a link to the Theatre Upstairs website.
Karl's London contact is Lou Coulson telephone 0044 207 734 9633.
---
Voiceover sample 1
| | |
| --- | --- |
| Listen: | |
| Download: | |