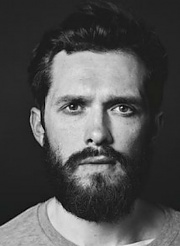 *to download videos, click play, then click the arrow on the upper right corner of the screen
Grigoriy Dobrygin is a Russian film and theatre actor, director and producer. A classically trained ballet dancer, Dobrygin had his breakout role as the first Russian superhero in the 2009 film Black Lightning. After starring in the critically acclaimed How I Ended This Summer (2010), he made his Western debut in English-language movie A Most Wanted Man (2014), an adaption of a John le Carré novel. Dobrygin portrayed Issa Karpov, a half-Russian, half-Chechen Muslim who flees to Hamburg, where he is targeted as a terrorist by the CIA and German secret service. He co-starred with Rachel McAdams, Willem Dafoe and the late Philip Seymour Hoffman, in some of Hoffman's last scenes.
He co-starred with Jude Law in 2014's Black Sea, a submarine thriller directed by Kevin Macdonald. He starred in a second John le Carré adaption, Our Kind of Traitor (2015), alongside Ewan McGregor and Stellan Skarsgård, and in Grain from Turkish director Semih Kaplanoğlu.