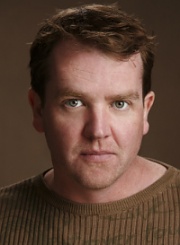 Garrett can now be seen on stage in Druid Theatre's production of Druid Gregory.
Originally from Wexford and trained at the Samuel Beckett Centre, Trinity College Dublin, Garrett is a hugely accomplished Irish actor who has appeared in leading roles in all of Ireland's major theatres and on tour internationally as well as playing leading roles in Irish film and television.
Garrett is also one if the most in demand voice over artists in Dublin having done T.V. and radio for 15 years. His resume includes work for such companies as McDonalds, Jameson, O2, Lucozade, Fuji and many more.
Film/TV credits include:
Quirke, Rough Diamond (BBC One), Stella Days (Newgrange Pictures), The Front Line (Buena Vista International), Pure Mule, Love is the Drug (RTÉ) & Alexander (Warner Bros.)
Theatre credits include:
The Cherry Orchard, Furniture, Year of the Hiker (Irish Times Best Supporting Actor Nomination), The Walworth Farce, The Silver Tassie, Druidmurphy, Duirdchakespeare (Druid Theatre), Richard III (Lincoln Center NYC, The Abbey Theatre), Waiting for Godot (Lincoln Center NYC), Stones in his Pockets (McCarter Theatre Center, New Jersey), Ulysses, School for Scandal, The Recruiting Officer, The Cavalcaders (Abbey Theatre), Death of a Salesman, The Caretaker, An Ideal Husband, Bedroom Farce, A Streetcar Named Desire, All My Sons & The Glass Menagerie (The Gate Theatre),