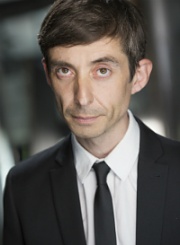 Frank was last seen on screen in BBC's His Dark Materials .
Frank is a native of Cork and attended UCC and the Gaiety School of Acting. Although based in London he is always happy to work in Ireland.
Film/TV credits include:
Dumbo(Disney, Dir: Tim Burton), The Last Kingdom (BBC2), Bone is the Throat, Second Coming (Film4), 1916 Seachtar Dearmadta (TG4), Hugo (Paramount Pictures, Dir: Martin Scorsese), The Borgias (Showtime), 1916 Seachtar na Casca (TG4), Mr. Nice, The Wind that Shakes the Barley (Element Films, Dir: Ken Loach), The Tudors (Showtime) & Rebel Heart (BBC).
Theatre credits include:
The Magic Tree (Cork Midsummer Festival), Knock 3 Times (Granary Theatre), Gertrude's Secret (King's Head Theatre), Madam T (The Everman Theatre), Buridan's Ass (Bewley's Café Theatre), Beats 'n' Pieces (Cork Opera House), Crabbed Youth and Age (Bewley's Café Theatre), Mind That 'tis My Brother (Granary Theatre), Pigtown (Bell Table), Beauty Queen of Leenane (Manchester Library), Stig of the Dump (West Yorkshire Playhouse), Zoe's Play (The Ark) & Craving (Dublin Fringe Festival),