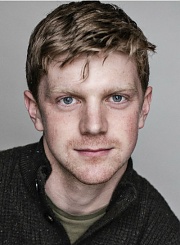 Frank was last seen on stage in the Abbey's highly successful production of Asking for It.
Originally from Co. Clare, Frank Blake is a recent graduate of The Lir, National Academy of Dramatic Art in association with RADA and Trinity College Dublin.
Frank recently shot on Game of Thrones (HBO).
Recent TV credits include: a recurring role in Season 2 of "The Frankenstein Chronicles" with Sean Bean for ITV/A&E Networks and the role of Conor Clune in Rebellion (RTE).
Frank appears in the short film "Inside I'm Racing" directed by Alexsander Szeser.
Recent Theatre credits include: Richard III (Druid Theatre, The Abbey), Asking for It (Everyman Theatre as part of the Cork Midsummer Festival, dir: Annabelle Comyn),
playing Jimmy Finnegan in Dublin by Lamplight (Galway Arts Festival, dir: Annie Ryan),
playing Colonel Bully / Razor in The Provoked Wife (dir: Lynne Parker), playing Yasha in The Cradle Will Rock (dir: Wayne Jordan), playing Guard / Matthew / Dessie in Buddleia (dir:Tom Creed), playing Bradley Douglas/ John Michael in Once In A Blood Moon (dir: Annie Ryan), playing Peadar Minogue in Sharon's Grave (dir: Conall Morrison), Agamemnon (dir: Wayne Jordan), playing Frederick/Silvius in As You Like It Duke (dir: Hilary Wood), playing Lyngstrand in The Lady from the Sea (dir: David Horan) and playing Konstantin/Sorin in The Seagull (dir: Hilary Wood)