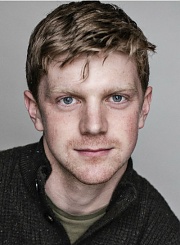 Frank can now be seen on screen in Normal People for BBC 3/HULU. He was last seen on stage in Druid's production of Richard III , which appeared at the Lincoln Center in New York.
Originally from Co. Clare, Frank Blake is a graduate of The Lir, National Academy of Dramatic Art in association with RADA and Trinity College Dublin.
Film/TV credits include:
Cherry (AGBO, Dir: Anthony & Joe Russo), Bridgerton (Shondaland for Netflix), Game of Thrones (HBO), Resistance (RTÉ) & The Frankenstein Chronicles (ITV/A&E Networks).
Theatre credits include:
Hecuba (Rough Magic, Dir: Lynne Parker), Theatre for One (Cork Midsummer Festival), The Glass Menagerie (The Gate Theatre), Asking for It (The Everyman & The Abbey Theatre, Dir: Annabelle Comyn) & Dublin by Lamplight (Galway Arts Festival, Dir: Annie Ryan).