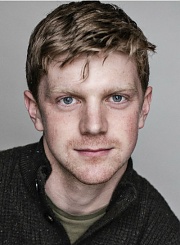 Frank was last seen on stage in Rough Magic's production of Hecuba . He will next be seen on stage in Druid's production of Richard III , which will appear at the Lincoln Center in New York.
Frank most recently starred in The Glass Menagerie opposite Samantha Bond as the Gentleman Caller, in the Gate Theatre, Dublin.
Other recent theatre appearances include the award winning Landmark/Everyman production of Asking for It directed by Annabelle Comyn which appeared in the Everyman Theatre Cork and on the Abbey mainstage. He also appeared on the Abbey stage in the award winning Druid Theatre/Abbey co-production of Richard III directed by Garry Hynes for Dublin Theatre Festival 2018.
Originally from Co. Clare, Frank Blake is a recent graduate of The Lir, National Academy of Dramatic Art in association with RADA and Trinity College Dublin.
Frank recently shot on Game of Thrones (HBO).
Other recent TV credits include: a recurring role in Season 2 of "The Frankenstein Chronicles" with Sean Bean for ITV/A&E Networks and the role of Conor Clune in Rebellion (RTE).
Frank appears in the short film "Inside I'm Racing" directed by Alexsander Szeser.
Recent Theatre credits include: Theatre for One (Cork Midsummer Festival), Dublin by Lamplight (Galway Arts Festival, dir: Annie Ryan), playing Colonel Bully / Razor in The Provoked Wife (dir: Lynne Parker), playing Yasha in The Cradle Will Rock (dir: Wayne Jordan), playing Guard / Matthew / Dessie in Buddleia (dir:Tom Creed), playing Bradley Douglas/ John Michael in Once In A Blood Moon (dir: Annie Ryan), playing Peadar Minogue in Sharon's Grave (dir: Conall Morrison), Agamemnon (dir: Wayne Jordan), playing Frederick/Silvius in As You Like It Duke (dir: Hilary Wood), playing Lyngstrand in The Lady from the Sea (dir: David Horan) and playing Konstantin/Sorin in The Seagull (dir: Hilary Wood)