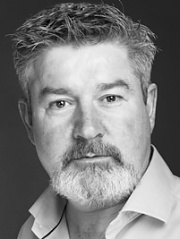 The following files are available for download by logged-in customers.

ConwayDenisFEB14.pdf
[CV, 234KB]
If you already have access details please
log in now

Need access? - Contact us to arrange password access
Denis will next be seen on screen in the second season of Virgin Media's Blood opposite Adrian Dunbar.
Denis can now be seen in Sweetness In The Belly alongside Dakota Fanning, which premiered at TIFF this September.
Other film credits include: Boy Eats Girl, Intermission, The Countess Cathleen, Making Ends Meet, I Went Down, Michael Collins, The Wind That Shakes The Barley,Tiger's Tail and in Mark O'Halloran's award-winning film Garage, directed by Lenny Abrahamson. Denis appeared in the central role as Nearchus in Alexander, written and directed by Oliver Stone and starring Colin Farrell.
On screen Denis has appeared in Penny Dreadful (Showtime Networks), Titanic Blood and Steel (Three Arts/Lionsgate), as Paddy Doyle in An Crisis Eile (TG4) and as recurring character Diarmuid in two season of Scup for TG4/BBCNI. He appeared in the role of Fr.Anselm in Quirke, starring Gabriel Byrne and Michael Gambon, produced by Element Films for BBC1. He appeared in as Mr. Brown in Brooklyn (dir: John Crowley) and The Truth Commissioner (dir: Declan Recks) and in The Trial of the Century directed by Maurice Sweeney. He appeared in The Bailout (TV3) and Red Rock (TV3), and recently wrapped on BBC 3's popular show Young Offenders, and upcoming series Normal People, a TV adaptation of the bestseller novel by Sally Rooney.
Other television includes: Hide and Seek, The Clinic, Bachelor's Walk, On Home Ground, Fair City (RTE), The Return (Granada), Casualty, Custer's Last Stand-Up, Ballykissangel, Rebel Heart (BBC), Yesterday's Children (CBS), TrÍ Sceal, Boghaisini and An Turas (TG4). More recently he appeared as lead character Vincent in the hit show The Running Mate, directed by Declan Recks for Treasure Films/TG4. He also appeared as Rendell in Series 1 and 2 of Showbands, directed by Ian Fitzgibbon for RTE/Parallel Films. He appeared as Inspector O'Kane in Season 3 of Single Handed (RTE/Touchpaper/ITV), reprising the role in Season 4.
Denis' recent theatre performances include the UK tour of Sam Yates' Glengarry Glenn Ross, The Lieutenant of Inishmore on the West End opposite Aidan Turner & Chasing Bono at the Soho Theatre.
A founding member of the Ouroboros Theatre Company (originally Theatreworks), Denis appeared as Salieri in their production of Amadeus at the Samuel Beckett Centre and as Apollo in Myrmidons. He appeared as Hugh O'Neill in the company's touring production of Brian Friel's Making History, directed by Geoff Gould at the Samuel Beckett Centre, Dublin and on national and international tour in 2007. In 2009, Denis performed or Ouroboros in The Death of Harry Leon directed by David Horan at Smock Alley Theatre. He appeared in the title role of the Theatreworks/Second Age production of Macbeth at the Gaiety Theatre and across Ireland. Also for Theatreworks, he appeared as Jupiter/Tereus in Tales from Ovid, Ulysses in Troilus and Cressida, Hugh in Frank McGuinness's epic Mutabiltie and the title role in Richard III, for which he won the 2002 Irish Times/ESB Theatre Award for Best Actor.
His work for the Abbey and Peacock theatres includes: Homelands, The Comedy of Errors, The Crucible, April Bright, The Colleen Bawn, The Freedom of the City, Judas of the Gallarus, You Never Can Tell (dir: Conall Morrison), "Hjalmar Ekdal" in Laszlo Marton's acclaimed production of Ibsen's The Wild Duck, Justice Balance in The Recruiting Officer (dir: Lynne Parker), Tom Kilroy's Christ Deliver Us! (dir: Wayne Jordan), and Conall Morrison's trilogy Riders to The Sea/Purgatory/Dandy Dolls at the Peacock for the 2004 Dublin Theatre Festival. Denis appeared as Hugh in Brian Friel's Translations also directed by Morrison.
Denis' work at the Gate Theatre, Dublin includes: The Gigli Concert (dir: David Grindley, 2009), The Speckled People (dir: Patrick Mason, 2011), David Mamet's Glengarry Glen Ross (dir: Doug Hughes, 2012), Richard II (dir: Michael B. Caven), An Enemy of the People (dir: Wayne Jordan, 2013) and A Streetcar Named Desire (dir: Ethan McSweeney, 2013). Denis played Gloucester opposite Frank Langella in King Lear as part of 2013's Chichester Theatre Festival. The play then successfully transferred to BAM in NYC. In 2014, Denis appeared as Victor in Arthur Miller's The Price (dir: Doug Hughes).
Other theatre work includes Frank Pig Says Hello (Co-Motion), Studs, Diarmuid and Grainne, Buddleia, Native City for Passion Machine, King Lear for Second Age, Volpone, Castle Rackrent, for Meridian Productions, Miss Julie, and Irish language plays Chun Na Farraige Sios, Psadh and Tincara, An Triall, and Liodán na hAbhann for renowned theatre company "Amharclann de hIde" and an appearance as "Old Mahon" in Druid Theatre Company's production of Playboy of the Western World at the Perth Arts Festival, Australia in 2005.
Denis played the role of Dinny in Enda Walsh's The Walworth Farce (dir: Mikel Murfi), for Druid Theatre Company at 2007's Edinburgh Festival, gaining five-star reviews and a Fringe First Award. The show went on to appear at St. Ann's Warehouse, Brooklyn to huge critical acclaim and in 2008 came to the Royal National Theatre, London, Cottesloe Stage, for a sold-out and critically acclaimed eleven-week run. In 2009, Denis appeared with Iain Glen in Wallenstein, an adaptation by Mike Poulton directed by Angus Jackson at the Minerva Theatre, Chichester. That same year, Denis appeared as the Irishman in Tom Murphy's The Gigli Concert directed by Garry Hynes for Druid Theatre company to re-open the Druid Theatre at Chapel Lane, Galway. It went on to a national sell-out tour of Ireland and Denis won the 2009 Irish Times Theatre Award for Best Actor (his second award in that category). In 2010, Denis appeared in Enda Walsh's play Penelope directed by Mikel Murfi for Druid Theatre Company at the Galway Arts Festival, Dublin Theatre Festival, St. Anne's Warehouse in Brooklyn, New York, the Hampstead Theatre, London and the Studio Theatre in Washington DC.
---
Voiceover sample 1
| | |
| --- | --- |
| Listen: | |
| Download: | |