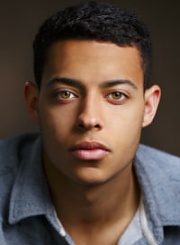 *to download videos, click play, then click the arrow on the upper right corner of the screen
Daryl was last seen on stage in Dylan Coburn Gray's brand new production Citysong in the Galway Arts Festival. Daryl can now be seen on screen in Peaky Blinders opposite Cillian Murphy. He is currently shooting on Wheel of Time for Amazon Studios.
Daryl graduated from DIT Conservatory of Music and Drama with a B.A in Drama Performance in 2014.
Most recently Daryl appeared in Vikings (History Channel) Season 5 and appeared as Ukkanaak in MGM's TV pilot Dawn directed by Robert Stromberg. Daryl also currently appears in the feature film written by Gerry Stembridge called The Randomer which premiered at the Galway Film Fleadh. Daryl appeared as recurring character Pierce Devlin on RTE's long running drama Fair City.
His first television appearance came when he appeared on the Referendum Commission Campaign adverts in October 2013 and more recently a major campaign for Mace supermarkets.
Daryl recently appeared on stage on the west end in The Lieutenant of Inishmore opposite Aidan Turner.
Daryl appeared in the title role in Othello at the Theatre Royal directed by Mark Lambert and he appeared in the same title role in a touring production by the Gaiety Theatre School. Daryl appeared in Romeo and Juliet directed by Wayne Jordan at The Gate Theatre, Dublin. He played Shimizu in Enjoy dir. Zoe Ni Riordan at the Project Arts Centre as part of Rough Magic SEEDS. Daryl recently appeared in The Wise Wound in Smock Alley Theatre, Dublin.
Daryl's debut in theatre was in the DIT Conservatory production of Macbeth where he played Lennox. The following year he played Romeo in Romeo & Juliet. Other theatre credits include A Fair Ball T'yis in Samuel Beckett Theatre for the Fringe Festival 2013 and The Grapes of Wrath in the Project Arts Centre.