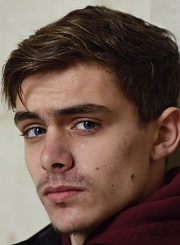 Dafhyd can be seen on screen in the title role in MICHAEL INSIDE, now on Netflix.
Now aged 18, at the age of 14 Dafyhd first appeared on screen in Frank Berry's multi-award winning first feature I USED TO LIVE HERE in 2014 opposite Jordanne Jones. I USED TO LIVE HERE would go on to win Best Feature at the Dublin Film Critics Awards, three IFTA nominations including Best Feature, and took Best Feature at the Galway Film Fleadh in 2014.
Like Jordanne, Dafhyd was cast from open auditions in his native Tallaght by Frank Berry, and he would go on to shoot the title role in MICHAEL INSIDE with Moe Dunford for Frank which went on general release in 2017. In 2018 it was nominated for 4 IFTAs, including nominations for Dafhyd for a Rising Star Award and Best Actor Award, and it won the Best Film IFTA for 2018. Dafhyd was nominated for the new talent award at Galway Film Fleadh in 2017 where MICHAEL INSIDE also took the Best Feature Award, and the film also took the Jury Award for Best Director at the Newport Film Festival 2017.
"Young Dafhyd Flynn is a revelation as the titular Michael, an 18 year-old boy who makes a bad decision and watches the illusion of his life disappear behind bars." – Screen Daily