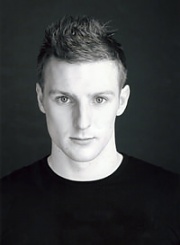 Conor was last seen on stage in Flights at the Omnibus Theatre in London.
Conor graduated from the Trinity College Dublin BA in Acting Studies Course. In his first role after graduation he appeared in the leading role of Hippolytus in Loose Canon's production of Phaedra's Love directed by Jason Byrne at the Project Arts Centre, Dublin. Other theatre includes Wedding Day at The Cro-Magnons directed by Jason Byrne and This Is Our Youth directed by Jimmy Fay, both for Bedrock Theatre Company and BASIN an award winning piece by ANU Productions. He appeared in Character directed by Andrew Flynn at Nun's Island Theatre, Galway for Decadent Theatre Company and in Serious Money directed by Aoife Spillane-Hinks for Rough Magic Theatre's SEEDs programme at the Project Arts Centre, Dublin and Project Brand New at the Project Arts Centre, Dublin. Conor appeared in Plasticine directed by Pat Kiernan for Corcadorca Theatre Company as part of the Cork Midsummer's Festival.
Conor appeared in Gavin Quinn's critically acclaimed and award winning production of The Rehearsal: Playing the Dane for Pan Pan Theatre Company at the Dublin Theatre Festival 2010 which went on to tour to the US, Australia and New Zealand in 2011 and 2012 and to Korea in 2013 and which continued to tour internationally and most recently appeared in the Abbey Theatre in 2018. Conor also appeared in his critically acclaimed one man show UR Hamlet at the Dublin Theatre Festival Fringe in 2012 and appeared as part of The Boys Of Foley Street, Louise Lowe's acclaimed site specific piece in the same festival having previously featured in her acclaimed production Basin. Conor directed the Secret Art of Murder in the Dublin Theatre Festival Fringe 2013 and appeared in his own show UR-HAMLET-TOO directed by Jason Byrne in the Project Arts Centre in 2013. Conor went on to appear as Antonio in Twelfth Night directed by Wayne Jordan at the Abbey Theatre. Conor most recently appeared in Mike Finn's new play Bread Not Profits for Guna Nua Theatre Company at the Lime Tree Theatre in Limerick earlier this year.
On screen Conor appeared in season one of the award winning Love/Hate a new TV drama series written by Stuart Carolan and directed by David Caffrey for Octagon Films/RTE in 2010, in RTE's TV Drama RAW starring Charlene McKenna, Keith McErlean and as Mowson in the final season of The Clinic on RTE. Conor appeared as Freddie in season 5 of RAW for Octagon Films/RTE. He appeared as Eric Trygvasson in Vikings for the History Channel/MGM.