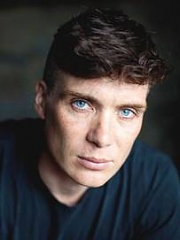 Cillian was last seen on stage in the remount of Enda Walsh's Grief is the Thing with Feathers at St. Ann's Warehouse – he will next appear on screen in A Quiet Place 2 opposite Emily Blunt.
Cillian recently appeared in season two of BBC's gangster saga "Peaky Blinders" where he reprises the role of Thomas Shelby. Recent films include the sci-fi drama, "Transcendence" opposite Johnny Depp, Martin Freeman and Kate Mara, in "Aloft" with Jennifer Connelly and he will soon appear in "In The Heart of the Sea" with Chris Hemsworth and Brendan Gleeson, directed by Ron Howard.
Cillian appeared in "Ballyturk", a new play by Enda Walsh, produced by Landmark Productions and the Galway Arts Festival which premiered as part of the Galway Arts Festival in July 2014 before a sell out runs at the National Theatre, London and Olympia Theatre, Dublin.
Cillian was nominated for Best Supporting Actor at the BIFA for his performance in "Broken" opposite Tim Roth directed by Rufus Norris. He reprised his role as Dr. Jonathan Crane in "The Dark Knight Rises" for Christopher Nolan's Batman finale. Cillian appeared as the lead role of Tom Buckley opposite Robert De Niro and Sigourney Weaver in "Red Lights" directed by Rodrigo Cortes. Cillian appeared in "In Time", directed by Andrew Niccol, opposite Justin Timberlake, Olivia Wildewild and Amanda Seyfried.
Cillian appeared on stage in the one man show Misterman, written and directed by Enda Walsh for Landmark Productions, the show first appeared at the Galway Arts festival (for which Cillian won the Irish Times Theatre Award for Best Actor for 2011) and went on to appear in sold out runs at London's National Theatre (Lyttelton Theatre) and at St. Ann's Warehouse, Brooklyn, NYC where Cillian won the prestigious Drama Desk Award for his performance in 2012.
Cillian appeared in "Inception" (Warner Bros.), a contemporary sci-fi thriller set within the architecture of the mind. The film, which also stars Leonardo DiCaprio, Marion Cotillard and Ellen Page, marks Cillian's third collaboration with director Christopher Nolan. In 2005, Cillian made an indelible impression as Dr. Jonathan Crane/The Scarecrow in "Batman Begins" and reprised the role in last year's "The Dark Knight".
Cillian starred opposite Brendan Gleeson and Jim Broadbent in Ian Fitzgibbon's "Perrier's Bounty", a dark comedy that follows three unlikely fugitives on the run from a gangster kingpin in Dublin. He also stars in Mandate Pictures' "Peacock", a psychological thriller about a man with split personalities.
Cillian first garnered international attention for his performance as the reluctant survivor Jim in Danny Boyle's "28 Days Later". Following "Batman Begins" he starred opposite Rachel McAdams in Wes Craven's hit thriller "Red Eye" and garnered a Golden Globe nomination for his performance as Patrick "Kitten" Brady in Neil Jordan's "Breakfast on Pluto". In Ken Loach's 2006 Cannes Film Festival Palme d'Or winner "The Wind That Shakes the Barley", Cillian portrayed a guerilla fighter who battles the British Black and Tan squads that attempt to thwart Ireland's bid for independence. Cillian re-teamed with Boyle and writer Alex Garland ("28 Days Later") on "Sunshine" (2007), a thriller in which a group of scientists attempt to re-ignite a dying sun.
Cillian's screen credits also include Beeban Kidron's "Hippie Hippie Shake", John Maybury's "Edge of Love", John Crowley's "Intermission", Peter Webber's "Girl With a Pearl Earring", Anthony Minghella's "Cold Mountain", "How Harry Became a Tree", "On the Edge", "Sunburn" and "Tron: Legacy".
Cillian made his mark on stage with a stunning performance in Enda Walsh's "Disco Pigs." After receiving commendations for Best Fringe Show at the 1996 Dublin Theatre Festival and the Fringe First Award at the Edinburgh Festival 1997, "Disco Pigs" went on to tour extensively in Ireland, the U.K., Canada and Australia. Murphy later starred in the film version directed by Kirsten Sheridan.
In 2006, Cillian made his West End debut at the New Ambassador Theatre in John Kolvenbach's "Love Song," directed by John Crowley. His stage collaborations with Tony Award-winning director Garry Hynes include "The Country Boy," "Juno and the Paycock," and "Playboy of the Western World" at the Gaity Theatre in Dublin. Murphy also starred as Konstantin in the Edinburgh Fest production of "The Seagull" directed by Peter Stein, as Adam in Neil LaBute's "The Shape of Things" at the Gate Theatre in Dublin and as Claudio in "Much Ado About Nothing."
Cillian lives in London, for UK projects contact Lou Coulson: telephone 0044 207 734 9633. In the USA Cillian is represented by Darren Statt at UTA, click here for UTA's website