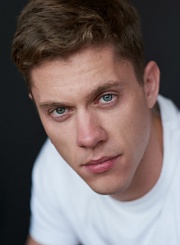 Charlie was most recently seen on stage in Landmark's brand new production Asking for It at the Everyman in Cork, and in it's remount at the Abbey Theatre.
Charlie appeared in Rough Magic's production of Melt in Smock Alley as part of the Dublin Theatre Festival. Melt is a new play written by Shane Mac an Bhaird.*
Charlie is a graduate of The Lir Academy (2017). During his time at the Lir he has appeared in Three Winters directed by David Horan, Children of the Sun directed by Lynne Parker, The Skriker directed by Tom Creed, Much Ado About Nothing directed by Ronan Phelan and Each Day Dies With Sleep directed by Olivia Songer. Charlie also appeared in the short film Dead Leaf Moth directed by Louise Ní Fhiannachta (scenes from which can be seen above).