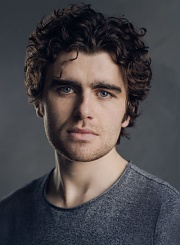 Charlie will next be seen on screen in BBC's brand new TV series, The Dublin Murders, due for release later this year.
Charlie is from Dublin and graduated from UCC in Drama and Theatre Studies.
Charlie recently shot a recurring role (Thomas Armitage) in the AMC TV drama THE TERROR, directed by Edward Berger and starring CIaran Hinds and Jared Harris which is current airing on AMC. He also recently shot the role of Tee-Jay Mulvihill in DARK LIES THE ISLAND (Grand Pictures) directed by Ian Fitzgibbon and due for release in 2019. He also recently featured as a recurring character (Craig) in SAFE HOUSE (Eleventh Hour/ITV) in 2017.
Charlie appeared on TV screens in the US and across Europe in the recurring role of Eigil in Season 4 of VIKINGS (MGM/History). He recently appeared in a leading role in the award-winning independent feature film THE DRUMMER AND THE KEEPER directed by Nick Kelly (Calico/Element) which premiered at the Galway Film Fleadh in 2017. Charlie spent the summer of 2015 in South Africa shooting a central role in JADOTVILLE, a feature film starring Jamie Dornan, produced by Parallel Films/Netflix. He also appeared in the leading role in My Life For Ireland (Kieron J Walsh) and appeared in a supporting role in Jim Sheridan's feature film The Secret Scripture with Rooney Mara, Eric Bana and Vanessa Redgrave. Charlie appeared in RTE's four-part drama Clean Break (Octagon Films/RTE).
Charlie appeared in the leading role (Conor) opposite Pat Shortt in SMALLTOWN, a TV mini-series written and directed by Gerard Barrett (Glassland, Pilgrim Hill) for TV3 in late 2016.
Charlie completed a course in The Lee Strasberg Institute of Theatre and Film in 2010 and the Bow Street Acting for Screen Course in early 2015. While at UCC Charlie was heavily involved with Dramat playing Larry in Closer, Macduff in Macbeth and Austin in True West. His other theatre credits include: Julius Caesar as Marc Anthony and Such a Local Row (both Journeyman Theatre Company). Latch as Payne (Hammergrin Theatre Company) as part of the Cork Midsummer Festival 2011.Mary and Lizzie (Drama and Theatre Studies) Mantle (Brokencrow Theatre Co) 18-35 (Conflicted Theatre Co). Charlie appeared in Romeo and Juliet directed by Pat Kiernan at the Cork Opera House as Benvolio (Corcadorca Theatre Co) and as Young Biff in the Everyman and Kolectiv Theatre Company's production of Death of A Salesman.