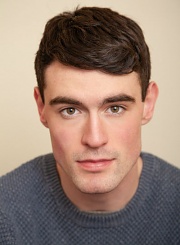 Cathal Greene is an Actor from Westmeath. He has graduated from the Two Year Full-Time Professional Actor Training Programme – Class of 2019.
Theatre credits include:
Pan in "Below Below" written by Fionnuala Gygax and directed by Raymond Keane.
Mascarille in "Two Precious Maidens" directed by Clare Maguire.
Donnachada in "My Father's House" written by Cathal and directed by Donal Courtney in collaboration with Bryan Burroughs & Rex Ryan.
Vicar in "The Vicar of Wakefield" directed by Paul Brennan.
Claudio in "Measure for Measure" directed by Liam Halligan.
Chris in "All My Sons" directed by Maureen White.
Film credits include:
Dermot Kennedy Music Video: "Outnumbered" Sam in "No Excuses Harassment Campaign" for the Dept. Of Justice directed by Brendan Canty.
Adam in "Edinburgh" directed by Graham Halpin.
Sean in "Youth at Risk" directed my Laura Way.
Jacob in "Jane's Odyssey" directed by Karin Pritzel.
John in "The Old Vic" directed by Conor McCulskey.
Bob in "Balbriggan Arms" directed by Darragh Pyne.
Paul in IADT short "Sodium blues" directed by Caoimhin Coffey.
Pa in IADT Graduate production "Nymph" directed by Caoimhin Coffey.
Cathal is currently in rehearsals for his graduation play "Below Below"