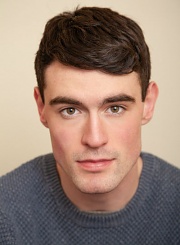 Cathal Greene is an Actor from Westmeath. He has graduated from the Two Year Full-Time Professional Actor Training Programme – Class of 2019.
Film/TV credits include:
Outnumbered (Music Video, Dermot Kennedy), No Excuses (Campaign for the Dept. of Justice), Edinburgh (Dir: Graham Halpin), Youth at Rish (Dir: Laura Way), Jane's Odyssey (Dir: Karin Pritzel), The Old Vic (Dir: Conor McCulskey), Balbriggan Arms (Dir: Darragh Pyne), Sodium Blues (Dir: Caoimhin Coffey) & Nymph (Dir: Caoimhin Coffey).
Theatre credits include:
Below Below (Dir: Raymond Keane), Two Precious Maidens (Dir: Clare Maguire), My Father's House (Donal Courtney), The Vicar of Wakefield (Dir Paul Brennan), Measure for Measure (Liam Halligan) & All My Sons (Maureen White).