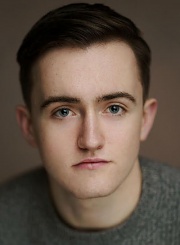 Callan is an actor from Phibsboro, Dublin. He is a graduate of the Gaiety School of Acting class of 2019. He has appeared in numerous successful independent films such as Six Pack and Crack (which featured on RTE short-screen), Des and Peggy which were both directed by Rita Marie Lawlor. He has also appeared in Bully and Class A which were both directed by Stephen Gaffney and have all gone around the world in film festivals and won awards.
Along with his experience on screen he has also appeared in 3 stage productions; Below Below directed by Raymond Keane, The Quare Fellow directed by Conor Lucey and Moliere I directed by Claire Maguire.
He is also competent with a number of martial arts and has qualifications in stage combat with hand to hand and rapier and dagger and has experience dancing.