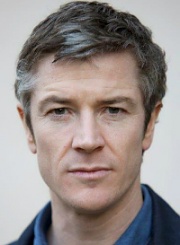 Barry was last seen on screen in ITV's Des opposite David Tennant.
Barry appeared in the leading role of Jimmy Gralton in Ken Loach's film 'Jimmy's Hall' which premiered at Cannes in 2014 prior to worldwide release. Barry appeared in the lead role in Paul Mercier's film Pursuit (2015) opposite Brendan Gleeson, Ruth Bradley and Liam Cunningham and also played the lead in two debut features that year: Blood Cells and Bypass. He was nominated for an IFTA for his role as Arthur Mahon in the RTE Drama Rebellion directed by Aku Louhimies for RTE/Touchpaper Films in 2016. Other recent projects include The Truth Commissioner, Project Lazarus and The Journey. Barry is appeared in the co-leading role (opposite Tom Vaughan Lawlor) in Maze (Lionsgate, Cyprus Avenue), written and directed by Stephen Burke which premiered at the Galway Film Fleadh 2017 and which is currently appearing at festivals across the US.
Barry recently appeared in the recurring role of 'Sawyer' in Britannia, a new television series for Sky which broadcast in 2018. In 2018 he also appeared in the role of Barry in Save Me, (Sky TV) and the role of Leslie in The End of the F***ing World (Netflix/Clerkenwell Films). He previously appeared as recurring character Dr Spencer in season 3 of The Fall (BBC/Netflix).
In theatre Barry appeared as Jack Clitheroe in a critically acclaimed and record breaking production of The Plough And The Stars at The Abbey Theatre directed by Wayne Jordan. He appeared as Dean in Lay Me Down Softly, a new play by Billy Roche at the Peacock Theatre directed by Wilson Milam and subsequently appeared in the leading role of Azore in the same theatre in La Dispute, directed by Wayne Jordan. Barry appeared in Ireland in the leading role of David in Love and Money directed by Annabelle Comyn at the Project Arts Centre, Dublin. He also appeared in Caryl Churchill's Mad Forest at the Battersea Arts Centre directed by JMK Award winner for 2009, Caroline Steinbeis.
As a fourteen year old Dubliner, Barry made his professional debut as John Paul Spencer, in Roddy Doyle`s highly acclaimed BBC drama, Family directed by Michael Winterbottom. A leading role in Paul Mercier`s play Buddleia soon followed, which enjoyed a successful run at the Dublin Theatre Festival before transferring to Donmar Warehouse, London. A role in BBC six-part series Plotlands, directed by John Strickland, took him up to his sixteenth birthday. Following this, he teamed up again with Mercier and actor Sean McGinley (Family) for award winning Irish language short Lipservice, soon after came Sunburn, shot in the U.S., and featuring Cillian Murphy in his first feature, before re-teaming with Michael Winterbottom and McGinley, again, for The Claim, an international film featuring Milla Jovovic, Nastasia Kinski, and Sarah Polley. Barry played the young lead opposite Peter Mullan. Barry starred in the Turner Classic Movie Short Film Award nominee Watchmen, alongside Cillian Murphy once again. He has appeared for BBC television in The Bill, the highly acclaimed Ch4 series City of Vice, as Patrick Jones, ITV`s Silent Witness, and opposite James McEvoy in the much feted BBC Film, MacBeth, as part of the Shakespeare re-told series. He appeared in 4 episodes of Psych Ward for RTE's Storyland series.
Other theatre projects in Ireland include Down the Line directed by Lynne Parker and A Quiet Life, directed by Karl Wallace; both on the Abbey's Peacock stage. Barry appeared as Des in an acclaimed production of A Whistle in the Dark by Tom Murphy directed for the Abbey stage by Conall Morrison. At the Project Arts Centre for Bedrock Theatre Co., Barry played Todd, in the Irish premier of Caryl Churchill`s Far Away, directed by Jimmy Fay and appeared as Kev in Take Me Away for Rough Magic directed by Lynn Parker which enjoyed a successful tour which included Heidelberg and Edinburgh, where it won a Fringe First, before settling at Bush Theatre, London. A tour of the UK with Martin MacDonagh`s Lieutenant of Inismore followed, to much critical acclaim and he went on to play the role of Padraic in the Irish premier which took place at the Olympia Theatre during the Dublin Theatre Festival. A tour of Ireland with Druid`s Sive directed by Druid's Garry Hynes followed, Barry played Liam Scuab on the nationwide tour which finished up at The Gaiety Theatre, Dublin, again as part of the Dublin Theatre Festival.
Other English theatre productions include Playboy of the Western World, at the Liverpool playhouse, where he played Christy Mahon. Barry played Ray in Monged, for Fishamble Theatre Co. in conjunction with Belgrade Theatre Coventry, directed by Jim Culleton.
Aside from the widely distributed shorts, Lipservice and Watchmen, Barry has starred in several others including Mouseparty, alongside Tobey Kebbell ( Dead Man`s Shoes; Control), Uncanny Valley, Looper, and Acne Innit. The latter three are all successful entries into the annual Super 8 film festival, London, and mark his foray into the world of screenwriting and directing.
Barry is represented in the UK by Lou Coulson Associates. Contact Lou Coulson telephone 0044 207 734 9633
---
Voiceover sample 1
| | |
| --- | --- |
| Listen: | |
| Download: | |