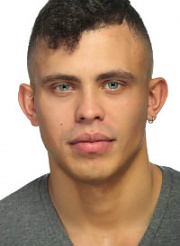 *to download videos, click play, then click the arrow on the upper right corner of the screen
Aaron can now be seen on screen in Brassic opposite Joe Gilgun. Other recent screen credits include War of the Worlds for Fox opposite Gabriel Byrne & the feature film Metal Heart .
Aaron recently appeared in the acclaimed Collapsing Horse production 'Bears in Space' at 59E59 in New York. He recently wrapped shooting the role of Corporal Zane Gorski opposite Taylor Schilling and Sam Worthington in The Titan, directed by Lennart Ruff and due for release in 2017. Most recently Aaron appeared as Lucentio in Caroline Byrne's acclaimed production of "The Taming of the Shrew" at London's Globe Theatre.
Aaron appeared in the role of Dectective Inspector Gavin Brogan in series four and five of the multi-award winning RTE drama Love/Hate. He appeared in The Alan Partridge Movie opposite Dustin Demri Burns, Colm Meaney and Steve Coogan. He worked in 2014 on upcoming feature film Love/Rosie opposite Jaime Winstone and Lily Collins, after working with Stephen Rea and Sean McGinley on BBC's The Wire for 'Country & Irish'.
Aaron graduated from Trinity College Dublin Drama Studies and Classics. He appeared first on TV & Radio impersonating Barack Obama following the success of the satirical musical comedy Obama Mia! at home in Dublin and abroad at the Edinburgh Festival Fringe.
Aaron formed part of the critically acclaimed sketch comedy trio A Betrayal of Penguins, who had three sell-out runs at the Edinburgh Festival Fringe and opening for David O'Doherty, Maeve Higgins, Dead Cat Bounce, Des Bishop, and The Pyjama Men in Vicar Street.
At the Samuel Beckett Theatre he played Lucien in the Irish premier of Tiny Dynamite; Andri in the Irish premier of Andorra; Polar Bear in the Irish premier of The Wonderful World of Dissocia and Algernon in The Importance of Being Earnest.
Other theatre credits include Verges in Much Ado About Nothing; King Lear in King Lear and Ali Hakim in Oklahoma! at the Mill Theatre, Dundrum.
Aaron played Victor in The Picture of Dorian Gray adapted and directed by Neil Bartlett in The Abbey Theatre, Dublin. He also appeared as Crook-Fingered Jake in Threepenny Opera at The Gate Theatre, Dublin directed by Wayne Jordan.
Aaron is also an award-winning puppeteer (ISDA 2011) and wroth his dissertation on Handspring Puppet Company (War Horse). He appeared in the critically acclaimed puppet musical Monster Clock in Smock Alley Theatre, produced by Collapsing Horse Theatre which he co-founded in 2012. After two sold-out runs at the 2014 Edinburgh Festival Fringe with 'Bears in Space' and 'Human Child', the latter toured Ireland and Russia. Bears in Space returned in August 2015 at The Soho Theatre and again in January 2016. A feature-length animation screenplay based on Monster Clock is being developed with Brownbag Films.
Aaron appears in Music Memories, a short film by Philippa Carson, in which he co-starred opposite Frank Kelly. He can also be seen in the role of Kurt the photographer in the most recent feature film 'Poison Pen' starring opposite lochlainn O'Mearain and Love/Hate co-actors Aoibhinn McGinnity, Mary Murray and Susan Loughnane.
Aaron is the current voice of the Meteor phone network ad campaigns and co-runs a gym with his brother in Dublin. His dance work can be seen in 'Mirrors' by Clu Music and the music videos of Hozier's first band Nova Collective.
Here are links to Aaron's various YouTube channels: