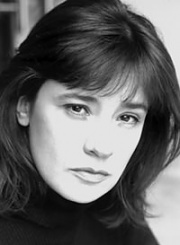 The following files are available for download by logged-in customers.

Kellegher,Tina08.pdf
[CV, 340KB]
If you already have access details please
log in now

Need access? - Contact us to arrange password access
Tina was last seen on stage at the Abbey in The Unmanageable Sisters.
Biography – Tina's appearances at the Abbey and Peacock Theatres include; The Plough and The Stars, Lovers at Versailles, The Hunt For Red Willie, The Comedy of Errors, The Trojan Women and Big Maggie and most recently Tom McIntyre's Only An Apple directed by Selina Cartmell. Other theatre work includes; A Doll's House (Lyric Theatre), The Steward of Christendom (Royal Court Theatre), Streets of Dublin (Tivoli Theatre), Love and a Bottle, Our Country's Good, (Rough Magic), Canaries (Groundwork), The Madam McAdam Travelling Theatre (Field Day), As You Like It (Second Age), Little City, Trumpets and Raspberries, The Playboy of The Western World and Factory Girls (Druid Theatre). Film and television credits include: The Clinic (series regular), Gemma and Showbands, series II, Sr. Bernadette in Sinners, Monica in No Tears, Sharon in The Snapper, Niamh in Ballykissangel (six seasons, series regular), The Hanging Gale, Murder in Eden and Scarlett. She played the role of Karen in Happy Ever Afters written and directed by Stephen Burke for Newgrange Pictures and appeared as Teresa Burke in Single Handed for ITV/RTE. Radio work includes Baldi (Series I and II) (BBCNI) and The Price of Reputation and Barry Lyndon for BBC Radio 4. Tina most recently appeared in Memory of Water directed by Ben Barnes at the Theatre Royal Waterford and recently wrapped shooting the role of Noleen in the feature film Standby, directed by Rob and Ronan Burke and due for release in 2013.
Tina's London contact is Conway Van Gelder www.conwayvangelder
---
Voiceover sample 1
| | |
| --- | --- |
| Listen: | |
| Download: | |