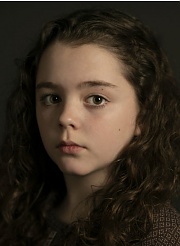 Ruby most recently appeared on screen alongside Sarah Greene & Moe Dunford in "Rosie" (written by award winning writer Roddy Doyle and directed by Paddy Breathnach for Element Pictures) which premiered at the Toronto Film Festival in 2018 and which won the Best Feature Film Award at the 2018 Irish Film Festival in London & won Best Irish Film Award at the Dublin Film Critics Circle Awards 2018.
She will soon appear alongside Adrian Dunbar in Blood series 2 (West Road Pictures & Element Pictures) which will air early in 2020 on Virgin Media One. Written by Sophie Petzal, directors Maurice Sweeney & Laura Way. As per Season 1, BLOOD will air also on Channel 5 in the UK and Acorn TV in the US.
Other film work includes: The Girl at the End of the Garden:2019 – directed by Bonnie Dempsey (Dyehouse Films) Ruby plays the lead role "LUCY" and the film has won 2nd prize in the Professional Jury Category for Best Live Action TV at the 2019 Chicago International Children's Film Festival.
On TV, Ruby has recently appeared in Headcases :2019 (Treasure Entertainment for RTE/Screen Ireland), written by Charleigh Bailey and directed by Hugh O' Connor.
Theatre experience includes lead roles in The Irish Fairy Door Company's production of "Fairy Long Christmas List" Christmas panto in December 2016 and annual musical productions by
NPAS (National Performing Arts School) at Dublin's Olympia Theatre.
Ruby has also appeared in multiple TV commercials for Prepay Power (2017/2018) & for EIR (2015/2016)
Other skills: Ruby is a student at NPAS (National Performing Arts School) attending weekly classes in singing, musical theatre and contemporary dance.