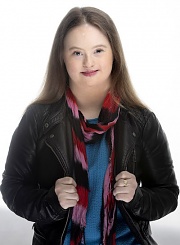 Orla was most recently seen playing the lead role in the short film Aretha playing opposite Conor Mullen, Denise McCormack and Hilda Fay. The film has been winning awards worldwide including Best Short Film at the Belfast Human Rights Film Festival.
Prior to that Orla starred in the Maria Doyle Kennedy short film A Different Kind of Day created for the Irish Film Board's Short Stories scheme. The film addresses the idea of perception and ability with humour and grace.
Orla has also appeared in music videos for Hudson Taylor, Maria Doyle Kennedy and Josienne Clarke & Ben Walkers 'Chicago' on Rough Trade Records.
Orla is studying Performing Arts in National Learning Network in Dublin.
Orla has Down Syndrome and believes in equal opportunities for all.