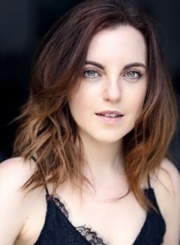 Niamh was most recently seen on stage in the world premiere of the stage musical version of the popular movie Good Vibrations.
Niamh recently finished filming the pilot for Every Saturday Night, a new TV drama, set in Sydney.
Theatre includes; Girl in Once (Olympia, Dublin), Female Ghost in Whisper House (The Other Palace, London), Pandora in Exposure (St. James Theatre, London); Sophie in Mamma Mia! International Tour (2014-2016); Mary in the original London revival of Lloyd-Webber and Ben Elton's The Beautiful Game (The Union Theatre, London); Johanna in Sweeney Todd (Manchester Royal Exchange and West Yorkshire Playhouse), Kim in the original revival of Taboo (Brixton Clubhouse, London); creating the role of The Little Prince in The Little Prince, (Lyric Theatre, Belfast); creating the role of Fleck in Love Never Dies (Adelphi Theatre, London) ; Sophie in Mamma Mia! (Prince of Wales, London); A Song Cycle For Soho (Soho Theatre,);
Other workshops include The Canary Girls, Fanatical and Rebel Song for Old Vic Young Voices.
Television includes; I'd Do Anything
BBC
1; Frankenstein's Wedding for
BBC
3; Out Of The Blue
BBC
NI.