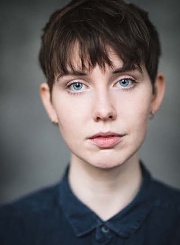 Martha was last seen on stage in Rough Magic's production of Hecuba .
Martha graduated from The Lir Academy Dublin in 2018.
She has worked with Rough Magic most recently on Hecuba by Marina Carr (dir: Lynne Parker, Dublin Theatre Fest 2019) and was part of their 2018 ensemble, in A Portrait of the Artist as a Young Man (adapted by Arthur Riordan, dir: Ronan Phelan, Dublin Theatre Festival & national tour), and A Midsummer Night's Dream (dir: Lynne Parker, Kilkenny Arts Festival, Winner Irish Times Theatre Award Best Ensemble '18.)
Since graduating, her recent theatre credits include: Fetch by Lauren Shannen-Jones (Dublin Fringe Festival '19, dir: Sam Cade), Spokesong by Stewart Parker (dir: Lynne Parker), Bread Not Profits by Mike Finn (Guna Nua, dir: Terry O'Donovan), Dangerous Liaisons (dir: Will Dunleavy).
She is one of the founding members of The Beat. Collective, and performed in "Beat." by Fionntán Larney (in the Dublin Fringe Festival 2018 and Samuel Beckett Theatre 2019), a new rap musical which is now on Spotify.
In her time in the Lir, Martha worked with leading Irish theatre makers including Ronan Leahy (as Martha Murphy & various in Nick Payne's Incognito), Ronan Phelan (as Beth Spencer in Merrily We Roll Along), Lynne Parker (as The Poet in La Ronde), Nona Shepphard (as Hermione in The Winter's Tale), Tom Creed (as Ludovica & various in The Caucasian Chalk Circle), Louise Lowe (in their devised piece Silence is Requested), Caitriona McLaughlin (as Pegeen Mike in The Playboy of the Western World), Annabelle Comyn (as The Minister in Caryl Churchill's translation of Thyestes), David Horan (as Nina in The Seagull) and Hilary Wood (as The Mother in Blood Wedding).
She won Best Actress at the Spookscreen Film Festival awards in Cork for the horror short "Bus to Dublin" directed by Conor McMahon from her time at The Lir.
Past television credits include roles in The Doireann Project, Vikings and Camelot.
She performed in Dublin Theatre Festivals 2014 with Spring Awakening (as Wendla Bergman with Dublin Youth Theatre, directed by Gyuri Vidovsky) and & 2013 in Shaun Dunne's I've To Mind Her (also with DYT, directed by Gary Keegan). Other experience with DYT includes collaborative work with Stefanie Preissner (as part of First Fortnight Festival 2015 in her play User Not Found), Dan Colley and Martin Sharry.