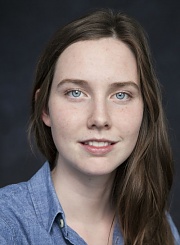 Martha was most recently seen on stage in Rough Magic's production of A Portrait of the Artist as a Young Man.
Martha is about to graduate from The Lir Academy Dublin.
In her time there, she has worked with leading Irish and international theatre makers including Ronan Phelan (as Beth Spencer in Merrily We Roll Along by Stephen Sondheim), Lynne Parker (as The Poet in La Ronde by Arthur Schnitzler), Nona Shepphard (as Hermione in The Winter's Tale by William Shakespeare), Tom Creed (as Ludovica and various roles in The Caucasian Chalk Circle by Bertolt Brecht), Louise Lowe (in their devised piece Silence is Requested), Catriona McLaughlin (as Pegeen Mike in The Playboy of the Western World by J.M. Synge), Annabelle Comyn (as The Minister in Thyestes translated by Caryl Churchill), and Hilary Wood (as The Mother in Blood Wedding by F.G. Lorca & the Princess of France in Love's Labour's Lost by William Shakespeare).
She has also been a member of Dublin Youth Theatre since 2014 and has performed with them in Spring Awakening (as Wendla Bergman, Axis Ballymun as part of Dublin Theatre Festival 2014, directed by Gyuri Vidovsky) and in Shaun Dunne's I've To Mind Her (Smock Alley Theatre as part of Dublin Theatre Festival 2013, directed by Gary Keegan). Other experience with DYT includes collaborative work with Stefanie Preissner (as part of First Fortnight Festival 2015 in her play User Not Found), Dan Colley and Martin Sharry.