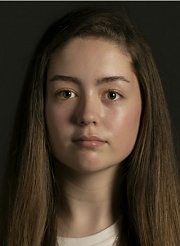 Libby most recently appeared on screen in "Dublin Oldschool" (written by Emmet Kirwan & Dave Tynan and directed by Dave Tynan for Element Pictures) which premiered in Dublin in 2018.
Other TV work includes: Into The Badlands, 2016 – directed by Stephen Fung & Undeniable, 2014 written by Chris Lang and directed by John Strickland for Independent Television (ITV).
Other works include Film Voiceover works for the short film Urban Man in 2015.
Libby has also appeared in TV commercials for Tesco (2015) & LIDL (2014)
Theatre experience includes lead roles in The Irish Fairy Door Company's production of "Fairy Long Christmas List" Christmas panto in December 2016 and annual musical productions by NPAS (National Performing Arts School) at Dublin's Olympia Theatre.
Other skills: Libby is a student at NPAS (National Performing Arts School) attending weekly classes in singing, musical theatre and contemporary dance as well as attending piano classes in Glasnevin School of Music.