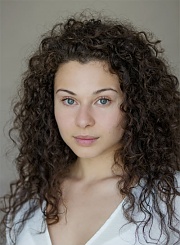 Leah Minto was mostly recently seen on screen in the film adaptation of Dublin Old School, by Emmet Kirwan and Dave Tynan.
Leah Minto is a Dublin based actress, currently appearing as the series regular role of Garda Ash Cahill in the TV series Redrock.
She had her first on stage performance in 2010 as Agnes in August Strindburg's "A Dream Play" directed by Jimmy Fay in the Peacock Theatre, Dublin as part of National Youth Theatre. As a member of Dublin Youth Theatre, Leah played "the dead girl" in the devised production of Batsh*t performed in Project Arts Centre directed by Gary Keegan in 2011. This production went on to be performed in the Fyfe Theatre Festival, Edinburgh. In 2012, she played Susan Brady in "Playboy of the Western World" in Smock Alley theatre, Dublin. Leah has also assistant-directed the adaptation of "Portrait of the Artist as a Young Man" in 2013 directed by Jimmy Fay in the New Theatre, Dublin. In 2014, Leah played the role of Gemma in "Veronica" an adaption of the play "Veronia's Room" by Ira Levin in the Chancery Lane Theatre, Dublin. In the same year she co-devised the show B®itches with Dylan Coburn-Gray that was presented as a work in progress piece in the Collaborations festival, Smock Alley Theatre. It then went on to be performed in the Dublin Fringe Festival. In 2015 she played the role of Perdita in Gary Duggan's "Run/Don't Run" directed by Aoife Spillane-Hinx. This production went on a national tour before a run in the Project Arts Centre, Dublin.