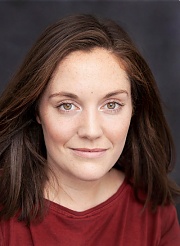 Kathy was last seen on stage in Blackout for The Lyric Theatre.
Kathy is from Belfast. She is graduating this July with a BA in Acting from The Lir National Academy of Dramatic Art at Trinity College Dublin.
Theatre credits while at the Lir include Charlotte Brontë in Brontë directed by David Horan, Simonides in Pericles directed by Conall Morrison, Mrs Mooney in Dubliners directed by Annie Ryan, Mrs Etherington in Serious Money directed by Oonagh Murphy. Christina in Black Church (devised project) directed by Louise Lowe, Mary Doul in The Well of the Saints directed by Eoghan Carrick, Electra in Electra directed by Ronan Phelan, Queen Elizabeth in Richard
III
directed by Hilary Wood, Sally in Lie of The Mind directed by Hilary Wood, Masha in Three Sisters directed by David Horan.
Before attending the Lir, Kathy studied Drama at Queen's University Belfast and trained at the Lyric Drama Studio and National Youth Theatre and has completed several TIE tours around Europe, UK and NI.