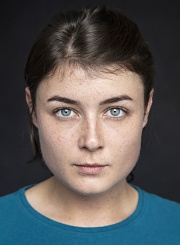 Julie graduated from The Lir Academy Dublin in 2021.
Before graduating she starred in Hecatomb, a short play for screen co-written with Louise Lowe. Produced by ANU Productions and the Gate Theatre, it is due for release in November 2021.
During her time at The Lir, Julie worked with leading Irish theatre makers including Tom Creed (as Sonya in Summerfolk), Davey Kelleher (as Maria in Twelfth Night), Wayne Jordan (as The Prince in Everybody Loves Sylvia), Jack Reardon (as Rose & Chorus in The Unreturning), Caroline Byrne (as Portia in Portia Coughlan), Caitriona McLaughlin (as Chorus in The Burial at Thebes), David Horan (as Isa in Men Should Weep) and Hilary Wood (as Sasha in Wild Honey and Hermia in A Midsummer Night's Dream).