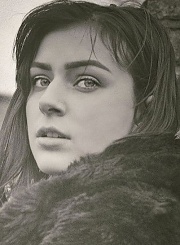 *to download videos, click play, then click the arrow on the upper right corner of the screen
Jordanne was last seen in Metal Heart, Hugh O'Connor's directorial debut. She will next appear in RTE's new series Dead Still , due for release later this year.
Jordanne was chosen to appear in the leading role of I USED TO LIVE HERE directed by Frank Berry (trailer below), when she was just 14 years old and for which she was nominated for a Best Actress in a Leading Role IFTA for 2015 and won the Dublin Film Critics Breakthrough Award for 2015, the movie was also nominated for a Best Film IFTA for 2015. Now 17 years old, Jordanne is a leading member of Ireland's new generation of screen actors. Trained at Bow Street Acting Academy under a full Scholarship, Jordanne appeared as MINNIE in REBELLION, a major new period mini-series starring Charlie Murphy, Ruth Bradley and Sarah Greene for RTE/Touchpaper/Zodiac/Sundance TV directed by Aku Louhimies in 2016 and shot it's yet to be aired sequel RESISTANCE in 2017. Jordanne also appeared in the short film MY FATHER MY BLOOD opposite Barry Ward for Just A Little Productions UK in 2017 at Galway Film Fleadh. Jordanne starred in HEARTBREAK by Emmet Kirwan, a spoken word piece on YouTube directed by Dave Tynan which gathered huge viewing numbers in 2017 (see above).
Jordanne is also three times Dublin Champion, Leinster Champion and all Ireland finalist in her section in Boxing and she danced (Free Style) in the Worlds, Europeans and all Irelands and placed 1st, 2nd and 3rd on many occasions.
"The weight of the film lies particularly heavily on Jones's narrow shoulders and she emerges as a pocket marvel."
Donald Clarke, Irish Times
"Jones is a find, having the interior illumination of a young Saoirse Ronan." Katy Hayes, The Sunday Times