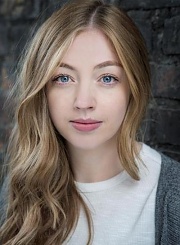 Emma was last seen on screen in Miss Scarlet & the Duke opposite Kate Philips (Alibi). She last appeared on stage in Rise Productions' Spotless .
Originally from Cork, Emma most recently appeared as Janette in BBC's hit comedy drama THE YOUNG OFFENDERS (BBC3/BBC1). Emma also appears as a recurring character (Amber) in CAN'T COPE, WON'T COPE season 2 currently airing on RTE2, and appeared as a series regular (Michele) in NOWHERE FAST for the same channel at the end of 2017. Also for the BBC, Emma appeared as series regular Tara in OVERSHADOWED for BBC in 2017, and she will appear later in 2018 as Gyda in season 6 of VIKINGS (MGM/HISTORY).
Other screen work includes Vikings (MGM), Can't Cope Won't Cope, Oonagh Kearney's TV drama ON THE HEMLINE (RTE) and the same director's Irish film board short The Christening and in Darkness on the Edge of Town with Brian Gleeson which was distributed on Netflix US and iTunes. Emma also appeared in feature film The Young Offenders (Directed by Peter Foott) and played Zikia in the 2016 MGM pilot Dawn directed by Robert Stromberg and written by Hank Steinberg and Ken Nolan, produced by Hulu.
Emma completed her BA in Theatre and Drama Studies at CIT Cork School of Music in 2016. During her studies, she appeared in a number of productions including the Irish premiere of The Laramie Cycle (Joseph C. Walsh, Stack Theatre, CIT CSM, 2015) and Our Town (Ben Barnes, Stack Theatre, CIT CSM, 2016). She also appeared as Mary Boyle in Juno and the Paycock (directed by Ger Fitzgibbon) at the Everyman Palace Theatre, Cork and in Room for Two directed by Caroline Fitzpatrick in the Dolmen Theatre and on tour in 2016.