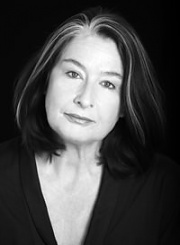 Eleanor was last seen on screen in season 2 of Derry Girls, opposite Ardal O'Hanlon.
Eleanor was co-founder of the award-winning Charabanc Theatre Company. In 1993 she received an EMA Best Actress Award for her work with the company, where she remained as Co-Artistic Director until 1995. Theatre credits include The Shape of Metal, Barbaric Comedies, Tartuffe, The Wild Duck and Hamlet at the Abbey and Peacock Theatres, Rough Magic's award-winning production of Pentecost (Dublin Theatre Festival, Irish and British Tour, Donmar Warehouse, London). Shadow of a Gunman, Weddins, Weein and Wakes, The Factory Girls and Conversations on a Homecomingfor the Lyric Theatre, Belfast and Our Father (Almeida). She appeared in the Gate Theatre's production of Jane Eyre directed by Alan Stanford and inAll's Well That Ends Well directed by Andy Hinds for CSI Ireland. Eleanor received an Irish Times/ESB Best Actress Award in 2003 for her role as Maggie in Dancing at Lughnasa produced by An Grianan Theatre. Eleanor appeared in Paul Mercier's Homelands at the Abbey Theatre Dublin. She appeared in Druid Theatre's production of The Year of the Hiker directed by Garry Hynes for Druid Theatre Company on national tour. Eleanor appeared in Don Carlos for Rough Magic Theatre company (directed by Lynne Parker), Scenes From The Big Picture for Prime Cut Theatre Company, directed by Conall Morrisson, Unravelling the Ribbon for Guna Nua Theatre Company and Saved at the Peacock Theatre, directed by Jimmy Fay for which won a Best Supporting Actress Award from the 2008 Irish Times Theatre Awards. Eleanor appeared in The Recruiting Officer at the Abbey Theatre, Dublin, directed by Lynne Parker and as Lily in Pentecost directed by Lynne Parker for the Rough Magic/Lyric Theatre Belfast co-productionThe Parker Project in Dublin and Belfast. She appeared as Lilian in You Are Here produced by Living Space theatre company for Dublin Theatre Festival 2008 and in_ Solemn Mass For A Full Moon In Summer_ directed by Tom Creed for Rough Magic Theatre Company at the Project Arts Centre, Dublin, in The Last Days of Judas Iscariot directed by Matt Tormey at the Project Arts Centre, Dublin.
Eleanor appeared in Christ Deliver Us! a new play by Tom Kilroy directed by Wayne Jordan at the Abbey Theatre, Dublin and in No Escape directed by Roisin McBrinn as part of the Peacock Theatres Darkest Corner Season. Eleanor appeared in Rough Magic's hugely successful production of The Importance of Being Earnest directed by Lynne Parker at the Gaiety Theatre, Dublin for which she won an Irish Times Theatre Best Supporting Actress Award in 2011. She appeared as in the Abbey Theatre's celebrated production of Pygmalion directed by Annabelle Comyn and in Rough Magic's acclaimed production of Plaza Suite at the Pavillion Theatre, Dun Laoighaire which went on to a national Irish tour and a transfer to the Gaiety Theatre, Dublin in 2012. She appeared as the role of Lady Britomart in Major Barbara directed by Annabelle Comyn in the Abbey Theatre. She appeared in The Critic directed by Lynne Parker in the Dublin Theatre Festival. She appeared in Pride and Prejudice as the role of Mrs Bennet in the Gate theatre. Eleanor appeared in Prime Cut Production's Chilean Trilogy, Tejas Verdes by Fermin Cabal and Discurso by Guillermo Calderon. Eleanor appeared in Rough Magic's production of Famished Castle by Hilary Fannin. Eleanor Recently appeared as Mrs Clandon in the Abbey's production of You Never Can Tell directed by Conall Morrison.
Television and film work includes: Come Home, Little Women, The Clinic (as recurring character Dervla Rodgers), Zonad, Murphy's Law, Small Engine Repair, Becoming Jane, The Snapper, The Disappearance of Finbar, The Boxer, Falling For A Dancer, Just in Time, Mad About Mambo, A Love Divided, The Ambassador, DDU, Disco Pigs, Baby Wars and The Return. Eleanor played Eileen Kirwan in the new TV series Love is A Drug directed by Darren Thornton for RTE for which she was nominated for an IFTA in 2005. Eleanor appeared in the new Irish feature film Wide Open Spaces written by Arthur Mathews and directed by Tom Hall and in the independent feature Sensation written and directed by Tom Hall and appeared in the comedy drama TV series An Crisis for Wildfire Films/TG4. Eleanor appeared as a series regular role of Lady Pirrie opposite Derek Jacobi in the TV series Titanic: Blood and Steel (DAP/De Angelis Group) which aired in 2012. Eleanor appears in Ice Cream Girls as the role of Liz directed by Dan Zeff and on Reign a CW Network produced TV Series directed by Brad Silberling.
Eleanor appeared in Amber directed by Thaddeus O'Sullivan and will soon appear as Miriam in The Truth Commissioner.
---
Voiceover sample 1
| | |
| --- | --- |
| Listen: | |
| Download: | |