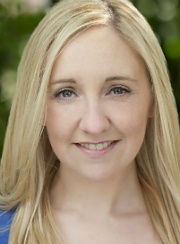 Elaine was last seen on stage in Sweeney Todd at the Lyric Theatre
Elaine graduated with distinction from D.I.T Conservatory of Music and Drama.
Since then her roles have included Mrs. O'Connor in Angela's Ashes, Chava/Hodel in Fiddler on the Roof (Gaiety), Ado Annie in "Oklahoma" (Gaiety/Cork Opera House/Civic Theatre Tallaght), Belle in "Beauty and the Beast" (St. Anthony's Theatre), The Merrow in "Quest 2- The Good People Try Harder (Pavillion, Dun Laoghaire), The Pianist in " Death of Cabaret" (Dublin Fringe Festival), Lucy in the Irish Premiere of the RSC's production of "The Lion, the Witch and the Wardrobe" (Cork Opera House), Sharon in "A Slice of Saturday Night" (Spirit), Alice in "Alice the Musical" (Marketplace Theatre Armagh/Pavillion Dun Laoghaire) Sharon in Shay Healy's new musical "Santa's Magical Mystery" (Irish Tour), Kirsty in Seagulls Dance for two Irish workshops and the world premiere in the Draoicht, Pam in "The Vagina Monologues" alongside Fenella Fielding(Dublin/Clonmel Tour) Maureen in "Rent" (Cork Opera House/Wexford Opera House), Listen to my Heart- National Concert Hall and Irish Tour, Elvis is my Daddy- Olympia Theatre and Irish Tour.
TV Credits include Midwife in Damo and Ivor, Furry in Fair City, Eircom Phonewatch Ad and DID Electrical ad. Film credits include City of Ember, The Exorcism Diaries, Princess Rehab, Perspectives.
Elaine is an accomplished singer/songwriter and won the 2fm Song contest in 1998 with her own composition. She recorded a single for Telethon with Irish artists and reached number one in the Irish charts. Elaine has been a soloist in the National Concert Hall in shows such as "A Celebration of Song", "Joe Conlan and Friends" "A Century of Song" and the AIMS Concert. Most recently Elaine played Elphaba from Wicked in "One Voice" – a variety show held in the Gaiety Theatre. Elaine was also a backing vocalist for Josh Groban at the Point Depot.
Elaine is creative director of Smart Blondes Productions. She has written many successful shorts that have screened in festivals around the world. "I am Jesus" has been shown on RTE and is currently showing on Aerlingus flights.