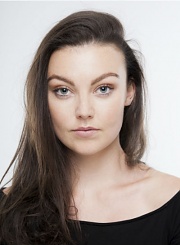 *to download videos, click play, then click the arrow on the upper right corner of the screen
Clara was most recently seen on screen in AMC's Into the Badlands.
Clara is originally from Cork and graduated from the Gaiety School of Acting two year full time course in July 2014.
Theatre Credits include; 'Me, Mollser' (one-woman show with the Abbey Theatre directed by Sarah Fitzgibbon, National Tour 2016) Theatre Lovett's 'The True Story of Hansel &Gretel' (Theatre Lovett as part of the Dublin Theatre Festival 2015) Ophelia in 'Hamlet' ( Mill theatre productions Sept/Oct 2016)'The Critic' ( Dublin Theatre Festival 2013 directed by Lynne Parker) Clara collaborated with Philip McMahon(THISISPOPBABY) on an original, one woman piece as part of The Gaiety School of Acting's Manifesto program. 'Potluck'(directed by Karl Shiels May 2014)'Dirty Laundry'( written and directed by Chris Edmunds(WAPPA), 2014). 'Death Row Cowboy' (directed by Gary Duggan in Smock Alley, August 2014).
Film credits include 'Do it Now' Viko Nicki , 'Hunter's Fall' Peter McCarthy which was screened at the Galway Film Fleadh 2015. 'LILY' Graham Cantwell in which she plays the title role (Winner of Tiernan MacBride award for Best Short Drama at Galway Film Fleadh 2016, selected and screening at Savannah Film festival, Cork Film Festival, Kerry Film Festival) trailer below.