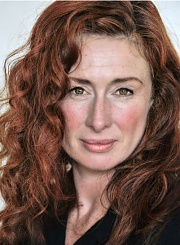 Caitriona was last seen on screen in Bailout on Virgin Media One.
Caitriona's photograph by Máire Uí Mhaicín courtesy of Portráidí.
Biography – Caitriona trained at the Gaiety School of Acting. Her appearances at the Abbey and Peacock include Beauty in a Broken Place, Ariel, Caoineadh Airt Ui Laoghaire and Conall Morrison's trilogy of one acts Riders to the Sea/ Purgatory/ Dandy Dolls at the Peacock for the Dublin Theatre Festival. Other theatre work includes Kanachime with Torifune Butoh Sha (Samuel Beckett Theatre), Queen Elizabeth in Richard III (Theatreworks), Innes in Innes de Castro (Theatre Space), Trish in Ding Dong (Cork Opera House), Woman from Rathmines in Stephen Rea's production of The Plough and the Stars (Gaiety Theatre), Mrs. Cheverly in An Ideal Husband (Andrews Lane), Maire in Din na mBan Tri Thine (Amharclann de hIde). The Constant Wife (Gate Theatre), This is Not a Life (Project Arts Centre), and Anna Karenina (Gate Theatre). She appeared in Roberto Zucco directed by Jimmy Fay at the Project Arts Centre and as Lady Macbeth in Macbeth directed by Alan Stanford for Second Age Theatre Company. More recently she has appeared in An Ideal Husband directed by Neil Bartlett for the Abbey Theatre, Dublin and in Wedding Day at the Cro Magnons directed by Jason Byrne for Bedrock Theatre Company. Caitriona appeared in The Death of Harry Leon directed by David Horan for Ouroboros Theatre Company at Smock Alley Theatre, Dublin. She recently appeared in Joe O'Conors's new play Handel's Crossing for Fishamble Theatre Company aboard the Jeanie Johnson on the river Liffey. Caitriona most recently appeared in Loose Canon's production of Jesus Has My Mom In There And Has Beat Her Up Real Bad and in the same company's production of Anatomy of a Seagull as Irina Nikolayevna Arkadina for which she was nominated for a Best Female Performance Award in the Dublin Theatre Festival Fringe Awards 2009. She appeared in the one woman adaptation of Chekov's The Party, directed by Sophie Motley at Bewleys Café Theatre, Dublin and in The Sit, part of the Show in A Bag initiative for Dublin Theatre Festival Fringe, 2010 which was nominated for a Bewley's Café Theatre Award. Caitriona recently appeared in 16 Possible Glimpses by Marina Carr directed by Wayne Jordan at the Peacock Theatre Dublin for which she was nominated for a Best Supporting Actress Award in the Irish Times Theatre Awards 2012.
Caitriona appeared in Tom and Vera produced by Desperate Optimists and Interloper produced by Liz Roche at the Samuel Beckett.
Caitriona recently appeared in a success tour and remount of LIPPY produced by Dead Centre Theatre Company.She recently wrote, produced and performed in her 2 hander production called Eating Seals & Seagull which premiered in Dublin and went to the 2015 Edinburgh Fringe Festival.
Caitriona recently appeared in Forever Yours, Mary – Lou at the Unistov Studio, Bath directed by Laurence Boswell.
Film and television work includes The Clinic (RTE), Proof (RTE), Fair City (RTE), On Home Ground (RTE), Tri Sceal (TG4), Ballykissangel (BBC), The Longest Ditch, Kaos, The Countess Cathleen, Mystic Knights, My Dinner with Oswald, An Turas, Sun Moon and Stars and Misteach Atha Cliath. Caitriona also writes, directs and voices cartoons for TG4, including Spongebob Squarepants, The Muppet Show and Scooby Doo. She most recently appears in Scup a new Irish language drama for Stirling Television/TG4/RTE and Ice Cream Girls directed by Dan Zeff.
---
Voiceover sample 1
| | |
| --- | --- |
| Listen: | |
| Download: | |
---
Voiceover sample 2
| | |
| --- | --- |
| Listen: | |
| Download: | |