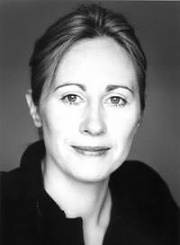 The following files are available for download by logged-in customers.

WalshCatherineFEB14.pdf
[CV, 228KB]
If you already have access details please
log in now

Need access? - Contact us to arrange password access
Catherine was last seen on stage in The Cripple of Inishmaan at the Gaiety Theatre.
Biography – Catherine is a native of Cork City, Ireland. She trained at the Samuel Beckett Centre, Trinity College Dublin. Her theatre work includes: The Unmanageable Sisters (The Abbey Theatre), Dancing At Lughnasa (Gate), directed by Joe Dowling, Sharon's Grave directed by Garry Hynes for Druid Theatre, Eden, by Eugene O'Brien (for which she won the Irish Times/ESB Best Actress of the Year Award 2002), The Gigli Concert by Tom Murphy (Abbey and Australian Tour), Translations by Brian Friel, Love in the Title by Hugh Leonard, Kevin's Bed by Bernard Farrell, Blackwater Angel by Jim Nolan and At Swim Two Birds, all at the Abbey and Peacock Theatres. A Christmas Carol and Phaedra at the Gate Theatre, Dublin, and Werewolves at the Druid Theatre, Galway.
Catherine appeared as Pegeen Mike in Playboy of the Western World and as Nora Burke in The Shadow of the Glen as part of Druid Theatre Company's acclaimed production DruidSynge for Galway Arts Festival and as part of Edinburgh International Festival 2005, directed by Garry Hynes. She then appeared to huge acclaim in these productions at the Tyrone Guthrie Center, Minneapolis and at Lincoln Center, New York as part of the Lincoln Center Festival, 2006. Catherine appeared as Freda in the remounted touring production of The Year of the Hiker directed by Garry Hynes for Druid Theatre Company on national tour.

TV and Film include: Holby City and Family for BBC and RTE, The Ambassador for BBC, On Home Ground for RTE and The Last September, directed by Debra Warner. Radio includes: Eden for BBC Radio 4 and The Monotonous Life of Little Mr. P, by Enda Walsh for BBC Radio 4. Catherine will soon appear in the comedy feature The Stag produced by Treasure Films directed by John Butler.
Catherine appeared in Fool For Love directed by Annie Ryan at the Peacock Theatre, Dublin in early 2008. She went on to appear as the Widow Quinn in Druid's production of Playboy of the Western World on tour across North America. She appeared in the new Enda Walsh play The New Electric Ballroom directed by Enda Walsh for Druid Theatre company at the Edinburgh Festival 2008 which won a Fringe First Award, Herald Angel Award and numerous 5 star reviews – and went on to appear at the Perth Arts Festival (2009), Australia prior to a appearing at the Riverside Studios, London. The show went on to appear in a sold out run at the Peacock Theatre, Dublin as part of the Dublin Theatre Festival 2009 prior to appearing at St.Ann's Warehouse in Brooklyn New York and at UCLA Live in Los Angeles. Catherine most recently appeared in the National Theatre of Scotland's premiere of Zinnie Harris's new play The Wheel at the Edinburgh Fringe Festival 2011, Traverse Theatre One, directed by Vicky Featherstone which received five star reviews, was nominated for a Fringe First and won the Amnesty International Freedom of Expression Award for 2011. Catherine appeared in Red Kettle Theatre Company's production of Beyond the Brooklyn Sky directed by Peter Sheridan and in The Bridge Below The Town by Pat McCabe produced by Livin Dred Theatre Company. Catherine recently appeared in Dreamland directed by Jim Nolan.